IIDA Award Winner: Lago by Julian Serrano by Studio Munge
How do you mix the cool of Milanese futurism with the razzle-dazzle of Las Vegas? Just ask Alessandro Munge, who designed this Italian restaurant and bar at the Bellagio Resort & Casino. Lago by Julian Serrano, the James Beard Foundation Award–winning chef's second Bellagio establishment, boasts shiny chrome details, energized colors, and a rakish angularity, all pitched to today's breed of hyper-caffeinated traveler. (Quite a contrast with the Louis XVI opulence of his first Bellagio restaurant, the French-accented Picasso.)
Munge calls Milan "the birthplace of futurismo," and Lago's casino-facing interior facade is an exuberant rendition of the city's street map, its strips of white powder-coated aluminum framing pieces of backlit colored glass. Steps inside the 6,500- square-foot space, an attenuated oblong, comfy upholstered seating gathers beneath artwork commissioned from Lori-Ann Bellissimo—yes, that's her real name. The kaleidoscopic wall sculpture is called Giuseppe Blu.
A bar in glistening Italian marble glides back toward the final destination. That's a patio beneath an interstellar outdoor chandelier, with views of the dancing waters of the property's ersatz Lake Como.
Project Team: Alex Simpson; Andy Liu; Stephanie Kruschen; Ragheed Nakkash; Ashraf Daoud.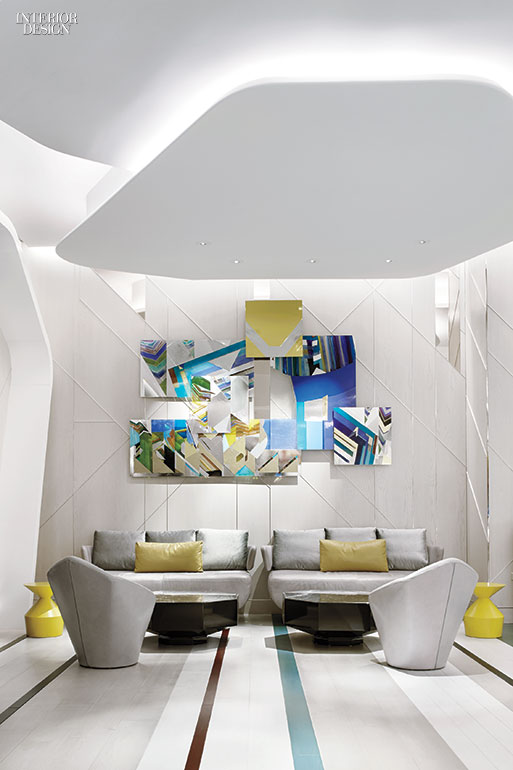 > See more coverage from NeoCon 2016