IIDA Award Winner: Westin Chongqing Liberation Square by CCD/Cheng Chung Design
In a metropolis of 8.5 million people, the focal point of a Chinese municipal region with a population of 30 million, it may be difficult to focus on the enchanted geography. However, Chongqing, spectacularly sited on the banks of the Yangtze River, was known through the millennia for its abundance of water, in countless forms, as well as lush trees and mountain peaks forever cloaked in a primordial mist. And that's what CCD/Cheng Chung Design channeled for this destination hotel, built to a notable standard of international luxury.
The 336 guest rooms and suites are "detailed for visitors to experience and explore," interior designer Nick Tse explains. Dividers of subtly patterned fog-gray stone screen the wet areas. In the sleeping-lounge precinct, furniture is modernist in aesthetic, with plenty of wood visible.
Tse's design excels on a grand scale, too. A double-height plant wall brings nature into the soaring lobby. On the wall behind the reception desks, he scattered a galaxy of small wooden orbs, and larger versions are positioned on the floor as abstract sculpture. Moss-green vessels accent the all-day restaurant, where the window wall frames a "forest" of glassy skyscrapers.
Project Team: Joe Cheng; Ken Wu.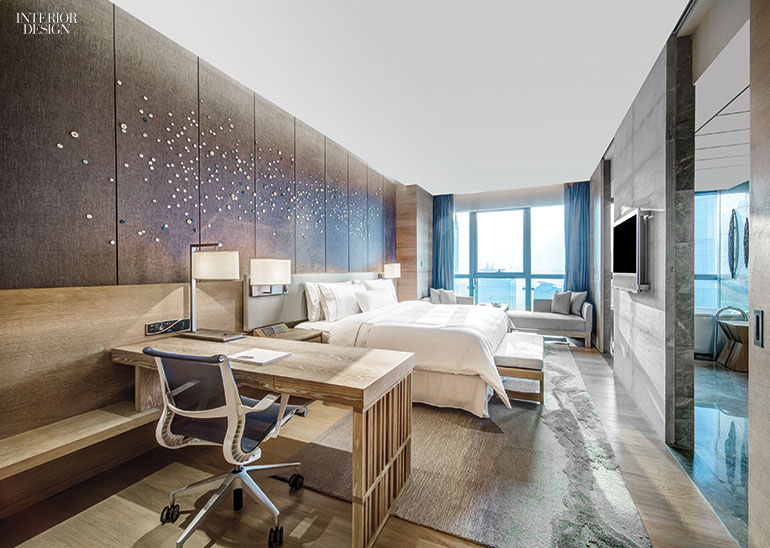 > See more coverage from NeoCon 2016