IMM Cologne Unveils Plans for "Das Haus" 2013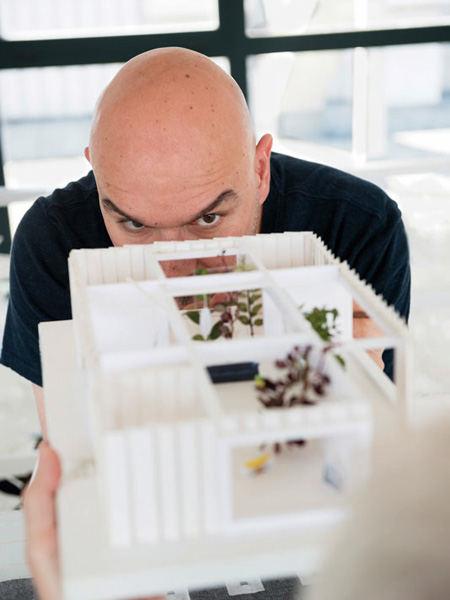 Luca Nichetto with a model of Das Haus 2013.
Italian designer Luca Nichetto has revealed his vision of the house of the future – it's bursting with cascading plants, missing a TV, and the shower is on the terrace.
An experiment in sustainable living, the house will be installed on an 1,900-square-foot platform at the next edition of the annual IMM Cologne furniture fair, which runs January 14 to 20, 2013. It will be the second house in the trade show's relaunched Ideal Houses series. Before it was discontinued, to industry dismay, in 2008, the series highlighted houses by the likes of the Bouroullec brothers, Naoto Fukasawa, Hella Jongerius, and Patricia Urquiola. It returned last January with a more tangible focus; a new name, "Das Haus – Interiors on Stage"; and a house by London studio Doshi Levien.
Image courtesy of IMM Cologne.
Interior Design got a sneak peak at Nichetto's plans when they were unveiled last week in Venice. The house is tasked to be not only futuristic, but practical – past houses tended to lean towards unrealistic – no easy feat.
Accordingly, Nichetto selected plants which each serve a special function. "It's like a symbiosis," Nichetto explains. There are plants that absorb noise, plants which absorb the smell of ammonia, and others which have a calming effect."
Drawing from designers Charles and Ray Eames and Japanese gardens, Nichetto designed two volumes coming together like a cross. Flooring is stone, and Briccole wood – a hardwood typical of Venice with silvery patina – clads the facade. The largest room is the living room, located in the center of the cross. He explains, "Why are bedrooms so big when we could make better use of the space in the kitchen, bath, or children's room?"
Exterior gardens are visible through all four large windows. Plus, the kitchen has herbs on hand and a vegetable garden sprouts on the terrace.
Noticeably missing is a TV. Instead, there's a library. "As an Italian, I know how dangerous too much TV consumption is for society," he notes. While the house does have a shower, it's on the terrace, "because you can only use it for a short time during the year," he explains. "Inside it is much more ecological to have a bath than a shower because the water consumption is less."
Furnishings were not revealed, but Nichetto says they will be a mix of his designs and those by Italian and Scandinavian masters – as well as art "combining nature and space." The son of a Murano glass master, Nichetto's recent products include the La Mise sofa for Cassina, the Stewie lamp series for Foscarini, and the Railway table for De Padova.
An aerial view of the model. Photo courtesy of IMM Cologne.