Inge Moore is Gold Key Designer of the Year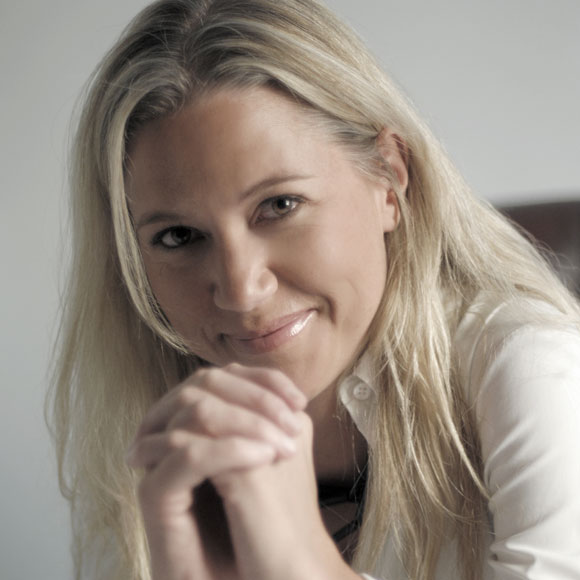 Desinger Inge Moore, president of

HBA International

's European division, has earned the title of Gold Key Designer of the Year at the 2013

IHMRS Gold Key Awards

, which has been setting the standard for excellence in hospitality design for 33 years. Sponsored by

Boutique Design

and

HOTELS

magazines, Gold Key is the preeminent award scheme for international hotel designers, celebrating success across the range of hospitality, from luxury guest rooms, to eco and socially conscious hotels and budget focused services. This year the panel of judges, including Claus Sendlinger, the CEO of

Design Hotels AG

, and Larry Traxler, the senior VP of

Hilton Worldwide

, honored Moore in a ceremony at the

New York Palace Hotel

on November 10.

"Winning any award is always special but the Gold Key Designer of the year is super special," says Moore. "We work hard in trying to bring soul and spirit into each of our projects and often have to push to get these elements incorporated. Soul and spirit are, I think, the new luxury. I feel re-energized to go out, together with my fabulous team, and create more spaces that touch the heart."
Inge Moore began her career in interior design in her hometown of Johannesburg, South Africa, where she designed the country's first post-apartheid museum in a collaboration with

Museum Africa

, as well as an innovative and imaginative series of prominent casinos. She moved to London in 2001 to join HBA, where she was named principal of the London studio in 2007 and president, Europe of HBA International in early 2013. Throughout her career with HBA she has fostered a growing team of world-class, multi-national designers and her work in hospitality and luxury residential design has been renowned. In 2010 she established The Gallery, an HBA company which focuses exclusively on highly creative and conceptual bespoke hospitality interiors.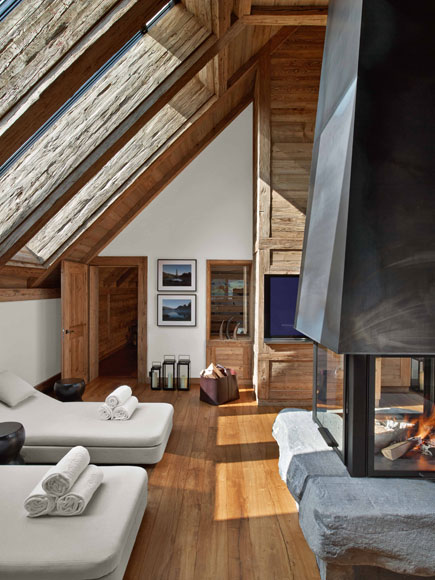 The Alpina Hotel Gstaad interior designed by Inge Moore of HBA. Photography by Eric Laignel.



An influential contributor to interior design education, Moore provides internship opportunities to a number of design schools and works to promote the education of young designers in a partnership with the International Hotel and Tourism Training Institute. As advice to new and aspiring designers she says, "It's very important that young designers keep their senses open but also learn to focus on the end result. Editing is one of the greatest design skills to gain when we are being bombarded by images, media, messages and other noise."
A few of her recent projects include a new Ritz Carlton in Tunis, the Royal Suite in the InterContinental Park Lane, Mena House and the Fairmont Nile City in Cairo, Hotel Alfonso XIII in Seville, and the Hotel Maria Cristina in San Sebastian.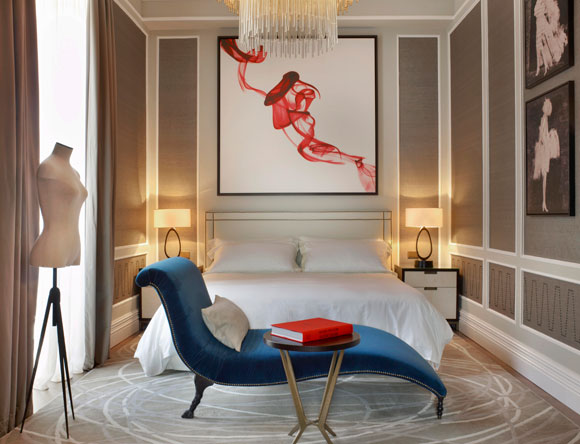 St. Regis Hotel in Rome designed by Inge Moore of HBA. Photography by Eric Laignel.