Inside Denmark's New Flos and Brdr. Krüger Showrooms by OEO Studio
Digging down deep to understand a client's DNA is what drives OEO Studio, says Thomas Lykke, the firm's creative director and head of design. Drawing from a background in design journalism—he once was interiors editor for Wallpaper*—Lykke founded the Copenhagen-based firm in 2003 with managing partner Anne-Marie Buemann. OEO now has a wide range of clients, ranging from Georg Jensen to the Michelin-starred restaurant Kadeau and several Japanese firms. Most recently, the principals completed two new showrooms, the Scandinavian outpost for Flos in an industrial hub of Copenhagen and the Brdr. Krüger showroom in Værløse, Denmark.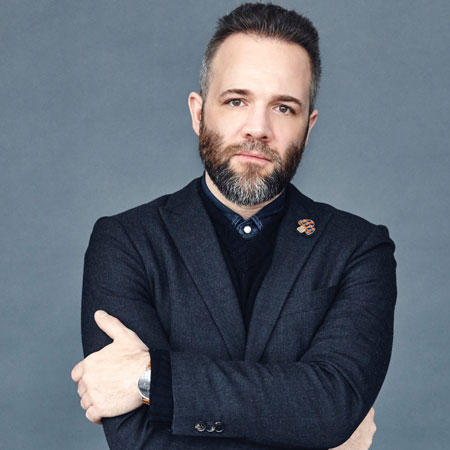 Interior Design: What inspired your designs for the Flos and Brdr. Krüger showrooms?
Thomas Lykke: Flos had regular customers coming in to ask if they had a specific lamp. The sales staff would tell them they did, and the customer would be surprised—the lamp had always been there, but they had just never noticed it. Flos has different types of lighting that are all equally important to the company. In the new design, that is now clear architecturally.
For Brdr. Krüger, it was about the building. Brdr. Krüger has its factory and offices there, so we wanted it to be a working showroom, yet something memorable where one gets a good sense of the quality and craftsmanship. The location is about 30 minutes by car from Copenhagen. We thought that if you take the journey, you should be rewarded.
ID: How did you decide on materials?
TL: The Brdr. Krüger building, built in 1967, is typical from a time in Denmark when there were a lot of factory buildings popping up. It's not necessarily very beautiful. So we tried to find the beauty by stripping it down to the concrete beams and brick walls. However, we didn't tear down everything and just redo it, because while the new space would probably be very beautiful, it would lose authenticity. The original building is made of strong materials, such as concrete and brick. To create the same kind of program, we used wood, plaster, iron, textile, lighting, and glass.
In the Flos showroom, the products are more about perfection and refinement, so the materials are about contrast. With something refined, you have something more rustic, and then the refined becomes more beautiful. Having that for a frame adds a nice yin and yang.
ID: How did you think about organization and zoning?
TL: With the lacquered plywood and stainless-steel display system at Flos, we created small areas within one system that are easy to repair, easy to replace, easy to move, and easy to change. The process to come up with this system took much longer than actually creating the idea for the showroom, but I think it works really well. It is a little theatrical, like a stage. The lamps are the actors and actresses.
The original space for Brdr. Krüger was defined by low ceilings, a ton of small rooms, and very little light. We tore down some walls and tried to create a gallery-like installation area that opens up to the showroom. We also created small windows. They are asymmetrical, so no matter where you stand, you have a nice view into another room.
ID: Both of the showrooms have installation-type pavilions built into the design. At Flos you have a stair that leads to nowhere.
TL: Yes, the stair seems to have no purpose. The idea was to use the space and the height. You get curious as to what it is and where it goes. And actually it does have purpose, which is quite a lot of storage.
ID: We understand that you try to reach the DNA of a company. What do you mean by this?

TL: Flos is an iconic brand from Italy, but we were doing a showroom in Scandinavia. The interior had to have a foothold in both Italian history and the Nordic tradition. Our interpretation is a tribute to the bold, big, and sometimes brutalist Italian architecture. However, in the Nordic style, unlike in Italy, there is no ornamentation, so our design is very minimalist and simple.