Inside The Late Show Studio with Jack Morton Worldwide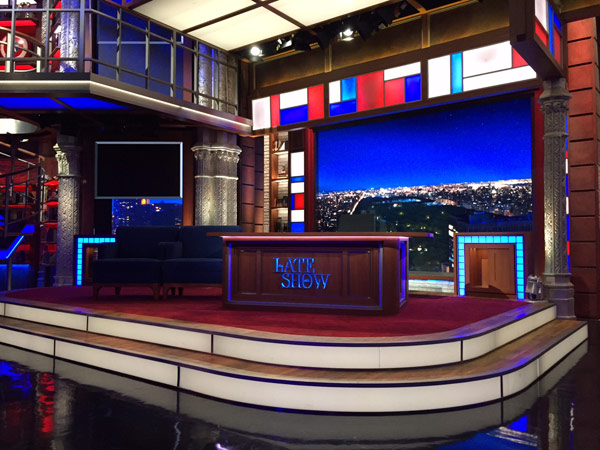 Photography courtesy of Jack Morton Worldwide.




While many designers rely on a portfolio to showcase their work, Jim Fenhagen of

Jack Morton Worldwide

need only turn on the television. Throughout his career, the SVP has been responsible for designing numerous talk show sets, including

The View

,

CBS This Morning

, and

The Daily Show with John Stewart

. His most recent project: designing the set for

The Late Show with Stephen Colbert

. Fenhagen had designed Colbert's set for his previous show,

The Colbert Report

, so it was only natural that he'd be tapped for the comedian's latest broadcast, which premiered earlier this month.

With the help of senior designer Larry Hartman, Fenhagen created a space that would appeal to both a studio audience and viewers watching from their TV sets. This meant equipping the stage with LED light boxes that change color and embracing rather than hiding the architecture inside the 88-year-old Ed Sullivan Theater in New York City, which is comprised of soaring columns and classical touches.

Of course, Colbert was very much involved in every step of the design process. "He had more involvement than almost any other star I've worked with," says Fenhagen. "He's very hands on and wanted to be involved in every aspect." Colbert's feedback was particularly helpful when it came time to design the chairs that celebrity guests sit in during interviews.



Photography courtesy of Jack Morton Worldwide.




"After sketching out the chair designs, I would share them with Stephen," Fenhagen says. "The chairs needed to do certain things and every inch was considered. For example, guests need to be able to turn and not slouch in the seats, so we used firmer, denser foam. We tested 15 different blue fabric swatches on camera to see what they'd look like on TV."

After deciding on a fabric, which was made by

Kravet

, Fenhagen tapped NYC-based firm

Martin Albert Interiors

to manufacture the chairs.

"From the very beginning [of this project], I would come to the theater with Stephen and some of the producers and we would just sit in the space," he says. "I wanted the theater to be a part of the design, while also bringing the focus down to Stephen."