Inside the Spain Home of Sculptor Xavier Corberó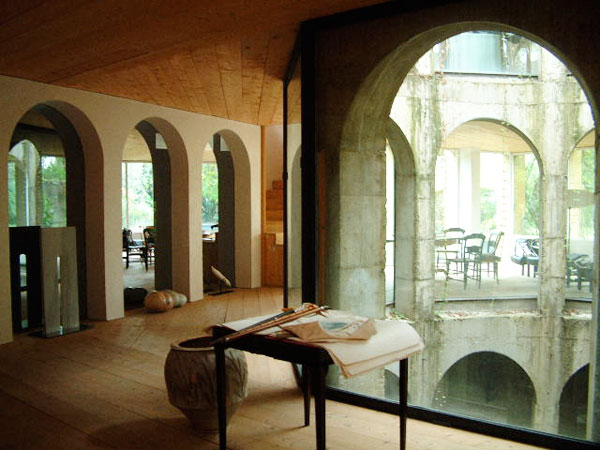 Behind medieval stone walls and an oversize cobalt blue door lies a labyrinth of nine vine-wrapped buildings comprising artist Xavier Corberó 's sprawling 108,000-square-foot estate in the Barcelona suburb of Esplugues de Llobregat. Over the project's 40-year evolution, Corberó has drawn inspiration from the surrounding landscape's nooks and crannies and connected spiral stairways and arched passageways within a series of man-made caves, now home to an abundance of studio spaces, workshops, a foundry, guest chambers, galleries and living rooms.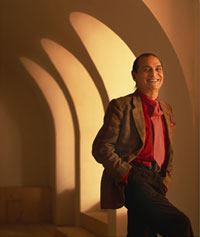 Corberó (at left) lives in what's known as "The Tower", the main structure boasting a dramatic six-story glass atrium. The home is filled with an eclectic mix of furniture—all rare and beautiful, yet playfully staged. "I buy what interests me and stirs my soul," Corbero says of the collection. "What I tried to do here is make something that is not boring," he explains. Vintage pieces include Chinese beds and screens, Biedermeier chairs, an Amish bench, Le Corbusier chaise lounges, Middle Eastern rugs, elephant tusks and Louis Vuitton suitcases.
"You must leave things open so the person enjoys or looks," he adds. "I feel that when people look at a piece of art they become artists, they see what they see, not what there is. That's what I like to do," says Corberó of mixing and matching art and furniture from different time periods.
The Tower also houses his gallery—home to work in a variety of scales but mainly in his signature materials, polished marble and basalt—and a workshop located three levels underground. Recently on display in the gallery is a model of his sculpture for the Rambla de Santa Cruz in Santa Cruz de Tenerife in the Canary Islands.
Corberó is perhaps the most influential and internationally recognized Catalonian artist since Antoni Gaudí. His works are exhibited worldwide and are featured in the collections of museums such as New York's Metropolitan Museum of Art , the Stedlijk Museum Amsterdam , and the Victoria and Albert Museum in London.
At nearly 80 years old, an energetic Xavier Corberó shows no sign of slowing down. He's more than happy to share photographs of the Olympic gold medals he designed for the games held in Barcelona in 1992, articles written about him over the last 50 years, stories of his friendship with Salvador Dalí, conversations with Camilo José Cela, and dinners with Sir Norman Foster. Almost as an after thought, Corberó reveals his next big project: an addition to his estate that will house a boutique hotel.
Photography by Louie Psihoyos/Science Faction/Corbis.