Interior Design Remembers 9/11
My very first issue as Editor in Chief of Interior Design was September 2001, our annual New York edition. I selected the super-cool Mark Morris Dance Center in Brooklyn for the cover, and added the title "Greater New York." It was definitely a striking, not-to-be-forgotten image; hot pink and green with papermache heads sitting on a modern desk. As we raced to the printer, September 11th happened, and everything right about that photo became ominous and very, very wrong. We tipped a plain black cover over the original, and I quickly penned a heartfelt note of condolence. It was then the role of my editorship—and leadership—became crystal clear: to passionately protect and grow this esteemed magazine and brand, and to serve the design community I loved so dearly.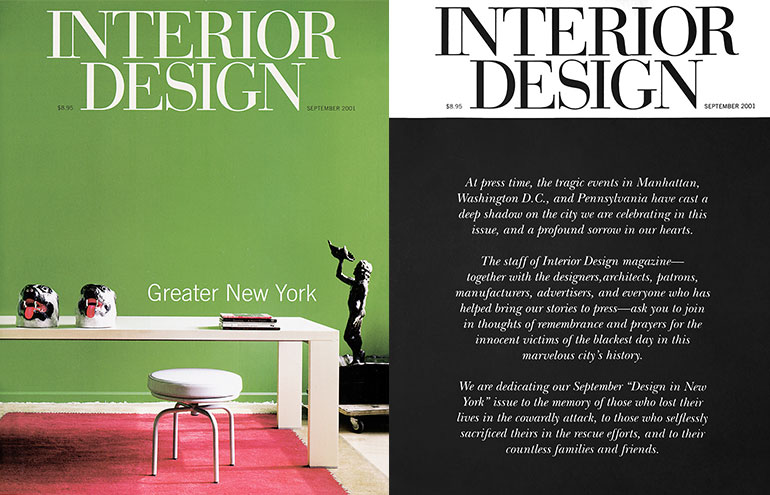 Read the full excerpt below from the 9/11 overlay:
At press time, the tragic events in Manhattan, Washington D.C., and Pennsylvania have cast a deep shadow on the city we are celebrating in this issue, and a profound sorrow in our hearts.
The staff of Interior Design magazine—together with the designers, architects, patrons, manufacturers, advertisers, and everyone who has helped bring our stories to press—ask you to join in thoughts of remembrance and prayers for the innocent victims of the blackest day in this marvelous city's history.
We are dedicating our September "Design in New York" issue to the memory of those who lost their lives in the cowardly attack, to those who selflessly sacrificed theirs in the rescue efforts, and to their countless families and friends.
Cindy Allen looks back one year later after 9/11:
After an unimaginable year post 9/11, I once again found myself working on a September New York issue. I decided to photograph a special seating feature to celebrate our cherished city, with an eclectic mix of chairs, two vans and walkie talkies in tow. We shot chairs in Grand Central and Hot Dog Central (Katz's Deli), drove to a sprinkler park in Chinatown where kids cooled off playing musical chairs. (Did I mention it was a sweltering 100+ degrees?) In Midtown, we discovered a fabulously eccentric woman outside Radio City, and downtown, a 10-cent shopper taking a priceless break. On the last day we headed to Brooklyn, where the real magic was waiting. I pulled out a woven leather chair from the van (from DDC, I still remember) and gently placed it on the boardwalk. Behind it I could see a railing with etched metal words. I got closer and there it was… a Walt Whitman poem that said, "Stand up Beautiful." Without knowing, the final chair found the final spot, perfectly aligned with views of where the twin towers had been, and with that unforgettable message to stand up, beautiful New York. That image became the September cover, and the story still gives me chills.
Read more of Interior Design's 9/11-related coverage
TK TK image grid and links