Jabbrrbox Work Pods Offer Total Privacy at LaGuardia Airport
Privacy at an airport? Check your disbelief—that unlikely amenity just arrived in New York at LaGuardia Airport's Terminal B, courtesy of Jabbrrbox. The workplace solutions company founded by Brian Hackathorn and Jeremy Jennings has installed eight of its freestanding work pods in the passenger-teeming terminal.
Constructed of laminated clear glass and powder-coated metal, the 48-inch square and 90-inch high units provide an acoustically sound shell using proprietary technology developed by chief technology officer Andrew Southern.
After settling into wool-upholstered seating and utilizing the laminate-covered work surface, users access secure WiFi, Bluetooth connectivity for hands-free calling, video conferencing, screen-sharing capabilities, adjustable lighting, and speakers—all in just 16 square feet. The cost is $15 per half hour, payable upon making the reservation, at which time the door passcode and WiFi password are issued.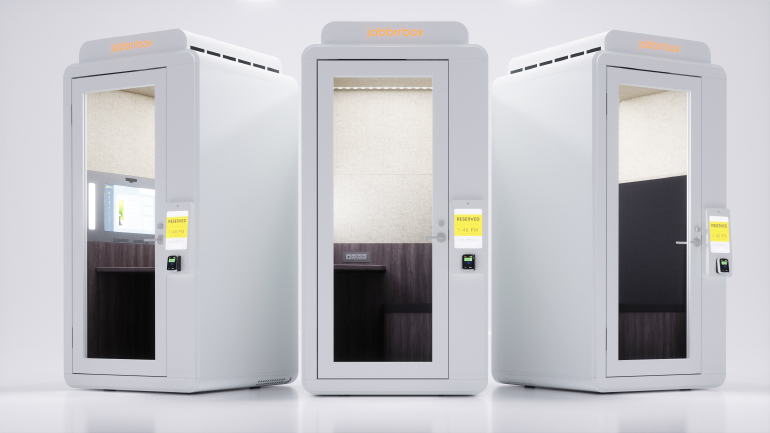 "We saw the need for space as service," says Hackathorn. "The installation is a great benchmark for us as we continue expand the service to numerous public spaces across the U.S."
Ed Baklor, chief commercial officer for private capital-redevelopment provider LaGuardia Gateway Partners calls the installation "the best of 21st-century innovation for a timeless need" for the facility's 15 million annual visitors.