Jamie Drake at Masterpiece London





Drake Design Associates

principal Jamie Drake designed a room for the recent week-long art and antiques fair

Masterpiece London

on the South Ground of The Royal Hospital Chelsea. "It is a choice honor for me to be able to express at Masterpiece London my approach to combining wide-ranging styles," says New York-based Drake, "especially since this splendid event is itself a showcase of the traditional and the modern, and everything in between." Drake launched his firm 35 years ago and has since masterminded residences for the likes of Madonna and New York City Mayor Michael Bloomberg.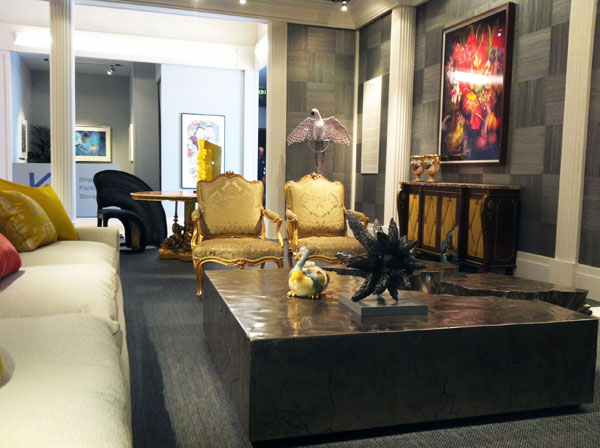 The room's sculptural cocktail table from Based Upon.








His room for Masterpiece London expressed the firm's signature blend of disparate design elements and approaches. Modern columns and deep cornices met a metallic-silver-sisal wall covering cut in alternating squares to create a parquet effect, punctuated by two contemporary photographs by David LaChappelle. Drake combined a pair of Regency marble-topped mahogany breakfront chiffoniers from Kentshire Galleries, a painting of Leda and the Swan by Giambettino Cignaroli, and modern sculpture—all from Robilant & Verna—with antique porcelains from Michele Beiny. Custom sofa and chairs and a 1950s Italian leather-clad lounge chair designed by Achille Castiglione were centered in front of a sculptural cocktail table from Based Upon.
The showstopper was Lonneke Gordjin and Ralph Nauta's Fragile Future chandelier from the Carpenters Workshop Gallery, made of real dandelion seeds, LEDs, electronics, phosphorus, and bronze. "The effect of the composition," says Drake, was "of lush and lavish open-plan living space, reflecting how people live today, surrounded by pieces that cross boundaries, centuries and cultures."