Jeppe Hein Wants You to Touch the Art at Brooklyn Bridge Park


Jeppe Hein's 'Mirror Labyrinth NY' in polished stainless steel and aluminum. Photo by James Ewing/Public Art Fund, NY.



"Please Touch the Art" is a site-specific installation of 18 interactive sculptures commissioned by the

Public Art Fund

for the Brooklyn Bridge Park. Created by Danish artist

Jeppe Hein

three distinct bodies of work stretch south along the waterfront from the Manhattan Bridge to Pier 6, offering a colorful, lively interaction with Lower Manhattan's looming towers.
Hein, who divides his time between Copenhagen and Berlin, finds inspiration in nature and the environment. Commenting on the artist's influences, Nicholas Baume, the Pubic Art Fund's director and chief curator, says, "Jeppe grew up in Denmark where art is very much a part of civic life… this democratic spirit of public art is something he feels naturally connected to." This statement is reflected in the artist's approach to the unique landscape of the park.



Jeppe Hein's 'Appearing Rooms' in water, wood, iron grating, jets, electrical pumps, computer controller. Photo by James Ewing/Public Art Fund, NY.




In

Appearing Rooms,

an interactive fountain spurts columns of water upward to form walls at timed intervals, so visitors can move from one "room" to the next without the touch of a single drop. The fountain creates a "now you see it, now you don't" effect, in which visitors standing on the periphery see a dynamic and perceptually captivating work of art.
Mirror-polished stainless steel posts in varied heights comprise

Mirror Labyrinth

with equally spaced paths allowing for an easy walkway. Surfaces mirror Manhattan's stunning irregular skyline across the river, the park's vibrant green lawn, and the hyper realistic faces of visitors.
Lastly, imbued with a quirky brand of humor,

Modified Social Benches

dots the length of the park with undulated forms that peak, twist, and bend responding to the park's terrain.

The artist's most comprehensive exhibition in a U.S. public space runs through April 17, 2016.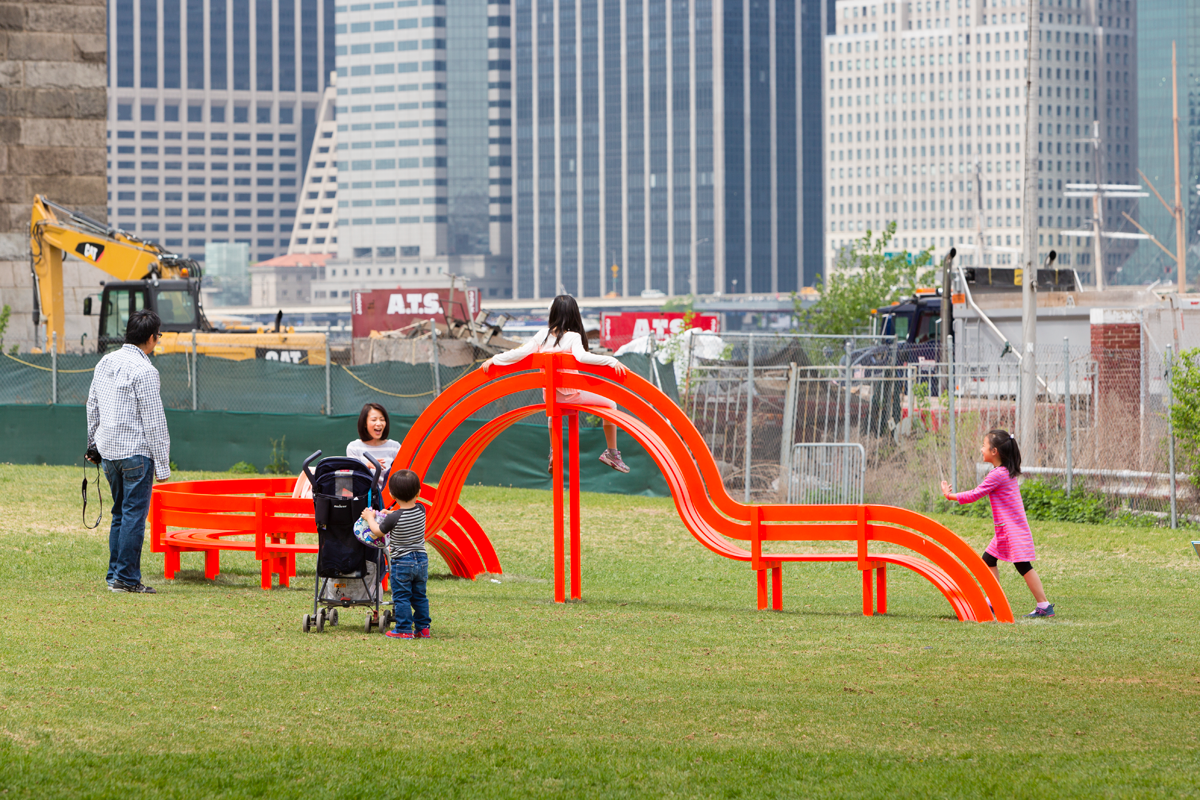 Jeppe Hein's 'Modified Social Bench NY #15' in powder-coated aluminum. Photo by James Ewing/Public Art Fund, NY.