John F. Saladino: 1985 Hall of Fame Inductee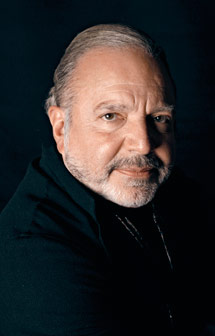 John Saladino

is one of the world's most distinguished and respected architectural and interior designers. Often referred to as the  designers' designer, John Saladino's timeless work continues his philosophy of mixing "old with new" and appeals to both traditional and modern clients. His full maturity as an artist and a master of scale blends easily with his historical references, from the Villa of Mysteries in Pompeii through Palladio and William Kent. His work is always layered with historical knowledge, whether implicit or explicit.

John Saladino was the first designer to incorporate ancient fragments and techniques into minimalist modern spaces. As early as 1968, he created rooms with brown coat plaster walls juxtaposed with polished surfaces, like stainless steel ceilings. One of the first to recognize John Saladino's maverick talent was the late Van Day Truex, formerly the Director of Design for Tiffany's. In the book "Van Day Truex: The Man Who Defined Twentieth Century Taste and Style," author Adam Lewis states that Truex believed "John Saladino had a remarkable eye for color" and his interiors had "the aura of a Renaissance painting."

Born in Kansas City, Missouri, John Saladino graduated from Notre Dame and The Yale School of Art and Architecture. In 1972 he founded

Saladino Group Inc

. which has grown into a full service Architectural, Interior Design and Landscape Design firm with a multinational staff of 25. Current projects range from a palace in Kuwait, a garden on a private island in Greece, a 10,000 square foot Palladian residence in Palm Beach, as well as several private residences in Santa Barbara, Seattle and residential towers with huge public spaces in New York.

John Saladino's Univeral Design Ability has also been expressed in his furniture collections for

Dunbar

, Bloomingdale's, and

Baker, Knapp, and Tubbs

. In 1986, he created Saladino Furniture Inc. with no less than sixty original designs for chairs, sofas, tables, lighting and new pieces that are constantly in production. His innovative use of couture details, such as channel and harlequin quilting, rusching and exquisite production, continue to make Saladino Furniture highly desirable to clients and interior designers.

John Saladino has won numerous Interior Design and Furniture awards and has served as a board member for a number of organizations, including Formica, Parsons School of Design, New York School of  Interior Design, Save Venice and the Sir John Soane Museum Foundation in London. He lectures worldwide and appears regularly in books, magazines and on television in the United States, England, France, Germany, Italy and Japan. His book,

Style by Saladino

, was published by Frances Lincoln Ltd. London in 2000 and printed at Monacelli Press in New York.


Courtesy of saladinostyle.com.





<<Back to All Hall of Fame Members