Johnston Marklee Unveils $40 Million Design for Menil Drawing Institute



Menil Drawing Institute at dusk, looking past the west entrance courtyard.



Los Angeles-based firm

Johnston Marklee

has unveiled its serene design for

The Menil Drawing Institute

in Houston. The plan lets in the sun, then gradually reduces its intensity, first through a canopy of trees over a series of courtyards, then via a thin gable-inspired roof canopy composed of steel plate. To do so in a building that houses the most delicate works of art is no small challenge.

The revolutionary roof design of Renzo Piano's 1987 building for the

Menil Collection

—recently honored with the

AIA

25-Year Award—set the standard for natural light use in contemporary museum buildings. It also set the standard for subsequent structures on Menil's 30-acre campus, each of which strives to take advantage of the park-like setting and the formidable Texas sun. Johnston Marklee's design is no exception.

According to Menil Collection director Josef Helfenstein, "The design is innovative in making the modulated presence of natural light possible within a building dedicated to fragile works on paper."

The 30,150-square-foot building, located just to the southeast of Piano's, includes galleries, offices, a conservation lab, and study room. At 16 feet high, it is scaled in accordance with the pre-war bungalows of the surrounding neighborhood. Architects Sharon Johnston and Mark Lee call the commission—the result of a 2012 competition win—a "dream project." The $40 million building will be the first freestanding facility in the U.S. created especially for the exhibition, study, storage, and conservation of modern and contemporary drawings.


Michael Van Valkenburgh Associates

is developing a more expansive and sustainable landscape for the campus. Groundbreaking is expected early next year.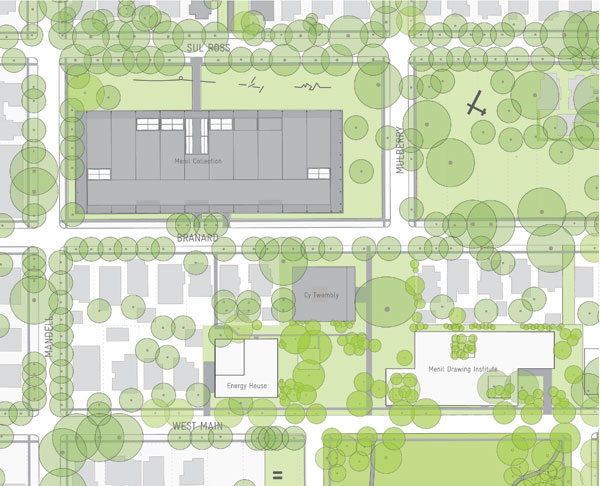 Site plan for the Menil Drawing Institute and new Energy House in relation to the main museum building and Cy Twombly Gallery.






The west courtyard of the Menil Drawing Institute.