Just in time for the holidays…Condé Nast Trade
The word is out. Top designers are all saying that seasonal décor this year is not just about tree trimming and table top. It's all about the walls.

"This Holiday Season is all about the wall décor.  The trend is to transform your walls into artistic oasis with visual statements.  It can also make a great conversational piece if you are hosting," said Nick Nichols, Art Director, New Era Portfolio
Picture this: It's late Saturday afternoon and it's cold outside – too cold to go out. You're lounging in your comfiest chaise in front of a roaring fire with a yummy cashmere throw and an even yummier mug of mulled wine. Perhaps you're still wearing your pajamas. You've forgotten the book on your lap because you're transfixed by a fresh fir tree sparkling with tiny white lights. But how does last summer's sunflower or beach print fit in? Indeed, it's jarring. The tableau is simply not complete without seasonal art.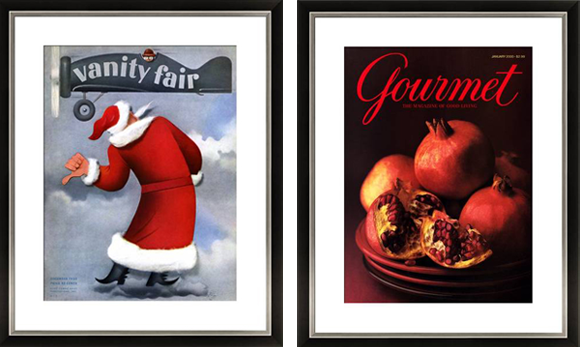 Condé Nast Archives in partnership with New Era Portfolio makes it possible for you to decorate in style this winter with festive imagery from your favorite brands – Vanity Fair – the New Yorker – Vogue – Gourmet.  From Santas to mittens to figurines to toys, and even a blustery day, this collection is available on numerous media to select from, including traditional framed paper for a classic touch, light weight canvas that's easy-to-hang but looks like the original, sophisticated aluminum or acrylic for a modern spin and unique birchwood for a rustic feel. Plus all the red you need to turn your space into a warm and cozy holiday home.
As this year's designers will tell you and savvy home makers get it: It's not just about the tree or the table this year, it's about the holistic experience. And there's no better way to create that than to surround yourself…
And don't forget that Valentine's Day is right around the corner!