Sponsored Content: Landscape Forms Now Offering Escofet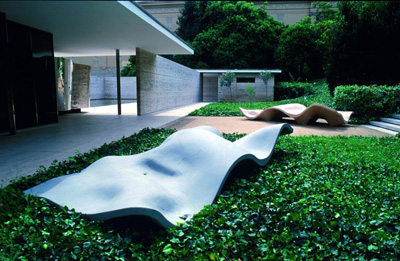 Escofet

made its debut more than 125 years ago with exquisite terrazzo tiles designed by celebrated Catalan architects and artists, most notably

Antoni Gaudi

. Escofet tiles graced the floors and walls of tsarist palaces, ceremonial government buildings, and public and private interiors by avant-garde architects. Since then, the company turned its focus to the integration of art and industry and the casting of paving, building columns and facades, and streetscape furniture. The Barcelona-based company has left an indelible mark on the architecture and urban landscape of the city now recognized as a world design capital.
Escofet innovation combines age-old cement and water with a wide range of natural aggregates and industrial and recycled materials to produce cast concrete with groundbreaking structural properties and formal possibilities. Escofet calls this material "cast stone," a name that reflects the hardness of the material, its origins in nature, and its palette of neutral colors derived from the materials of which it is made. Mastery of material and a highly industrialized casting process enable Escofet to produce massive organic forms, crisp-edged geometric volumes and thin-profile shapes. Hand finishing by skilled artisans preserves the individual surface qualities of each piece. Designs by international architects, industrial designers and artists bring together architecture and nature in contemporary expressions of a timeless material.
Escofet cast concrete architectural and streetscape elements are signature features of Barcelona's urban aesthetic and its contribution to the visual vitality of the city's re-urbanized zones has earned it the

National Design Prize of Spain

. Escofet products are well known throughout Europe and Asia. And now

Landscape Forms

offers Escofet cast stone site furniture to discriminating designers of urban landscapes in the US and Canada.