Sponsored Content: Landscape Forms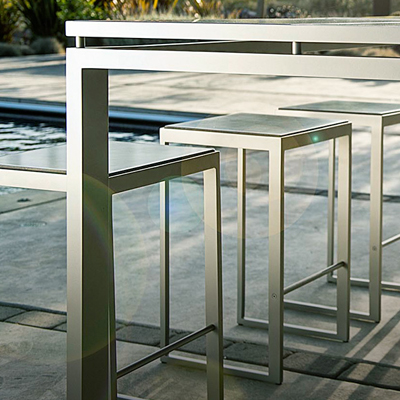 Terrace Life marks

Landscape Forms

' debut into lifestyle furniture for terraces, rooftop gardens, patios and other special private and protected spaces. It includes collections by award-winning architects and landscape architects for enriching social life on the other side of the glass door. Designed with architects and interior designers in mind, it honors architectural context in spaces close to buildings and takes the design conversation to a different realm of scale, proportion and finish. Terrace Life focuses on the ambience of select spaces and the quality of experience for the people who gather in them. It is furniture that brings people together, satisfies the senses, touches the emotions, and imparts a special sense of place.
Morrison, designed by Lionel Morrison, features a high table with stools and a large, low sybaritic bench. Form and materials reflect the refined sensibility of the Dallas-based architect renown for his serene modernist buildings. The design is simple. Floating frames create a form language and panel inserts in a choice of steel, glass, concrete or wood provide texture and tone. Seamless connections and flawless finishes define finesse. The magic is in the scale, proportions and experience. Standing at a tall table or perching on a high stool sets the stage for conversation. Sitting on a broad, beautiful bench with a friend provides the perfect condition for intimate conversation.
Olithas is a table and bench that create a magnetic field for active outdoor living. Olithas combines "lithos," the Greek word for stone, and "olita," the Spanish word for tiny wave. It gracefully integrates the fluted form of the classical column, the concrete and steel of international style architecture, and innovative MeldStone™technology to celebrate the natural and the man made, the very old and the very new. Tops and seats so thin they appear to float are joined to a tubular steel base with jewel-like stainless steel connectors. Olithas intrigues and lures, stimulates social life in outdoor spaces and sits lightly in the landscape.