Layer Prototypes a Smart Ride-Share Vehicle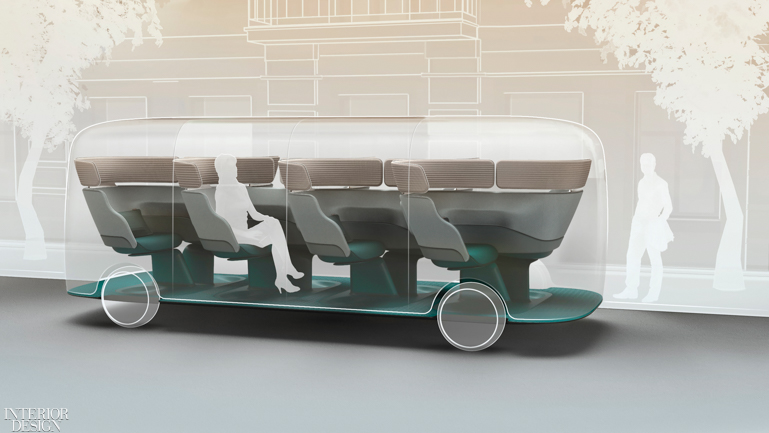 Do you suffer from single-ride eco-guilt but also a fear of sardinelike ride-shares? Consider Joyn. The autonomous vehicular prototype and app is the result of a five-month research and design initiative, including user interviews and online surveys, spearheaded by multidisciplinary firm Layer. Founder Benjamin Hubert and team concluded that the greatest need, in terms of traffic congestion alleviation, was for six to eight pas­sengers, for 30-minute- to 1-hour-long rides.
Those results pointed them to the Ford Galaxy footprint but customized with such features as a smart-glass bubble on which upcoming stop and time to destination information would be displayed. Interiors would offer soft textile upholstery, stowable tables, charging ports, and four rows of pairs of opposing seats, the latter featuring modular winglike headrests that provide privacy when closed and the ability to converse, for passengers traveling together, when pushed open. "It's the first platform that's designed specifically for ride-sharing rather than retrofitting an existing model," Hubert explains of the prototype. When will Joyn hit city streets? Follow @layer_design for updates.
Read next: EDG Plans an Alternate Route for Cars in Manhattan Called Loop NYC