Los Angeles Design Retailer GARDE Expands to Santa Barbara, Launches Airbnb Unit
When former Calvin Klein executive Scotti Sitz founded Los Angeles retailer GARDE, her goal was simple: introduce Angelenos to the world's top-notch designers. Opened in 2012 with partner John Davidson, GARDE has since become a beloved staple of the city's burgeoning design sphere—Ellen DeGeneres and Kelly Wearstler are fans. Objects by such blue-chip makers as Apparatus Studio, Faye Toogood, Egg Collective, and Marcin Rusak all take pride of place in the Beverly Boulevard flagship, but a rapidly expanding roster of talent called for more space. The solution? Expand to Summerland, the idyllic beach town near Santa Barbara, a locale dear to both founders.
For GARDE's new venture, Sitz and Davidson completely renovated a historic 1921 farmhouse that remained unchanged for five decades. The owners tapped Belgian craftsman Peter Van Cronenburg for architectural hardware and Studio E&R for custom woodworking that helps create relaxed yet curated environs true to both Summerland and GARDE's aesthetic. Exclusive collections by Ben Storms, DIM Atelier, Arno Declercq, Emilie Lemardeley, and Terres d'Albine inaugurate the new outpost, which captures the Californian ethos of indoor-outdoor living.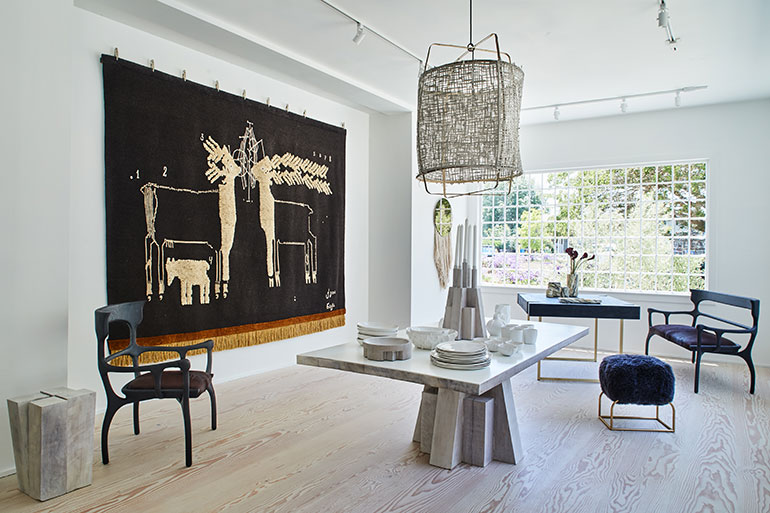 But perhaps the most buzzworthy opening is GARDE HOUSE, the brand's first foray into hospitality. Available as an Airbnb rental, the 1,000-square-foot one-bedroom apartment showcases a selection of GARDE furnishings hand-picked by Sitz that will change seasonally. If guests enjoy the apartment's Piet Boon Base dishware, GARDE HOUSE sofas, or When Objects Work cookware by John Pawson, they can head downstairs and purchase each within seconds. Consider it a fully immersive stay inside the GARDE universe.