Lou Switzer: 1993 Hall of Fame Inductee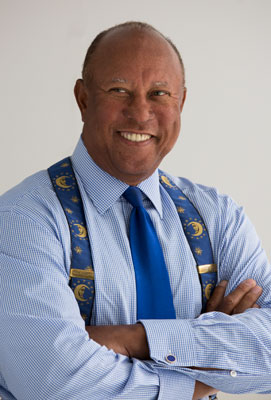 Lou Switzer appeared at this magazine's offices in 1976, aged 28 and gung-ho to succeed at his chosen career. Interior design was the field he aimed to conquer, and a year before he had, after graduation from Pratt Institute, gone into partnership to launch his practice. A few months later he established his own firm,

The Switzer Group

, in a smallish space (enlarged by him with an upper deck) on Manhattan's East Side; remained in the vicinity as he opened larger and larger premises to accommodate growing client needs and commensurate staff; and since 1985, has been handsomely headquartered in the Flatiron district. His charter group of Fortune 500 clients–Avon Products, Citibank, IBM, Consolidated Edison and the like–has vastly expanded and accounts for his focal area of concentration: corporate and financial spaces. Showrooms, specialized data facilities and restaurants also are among completed jobs; assignments from client branch offices have broadened the geographical reach, prompting the 1993 opening of his Pasadena, CA outpost.
All along reports chronicling his work progress have been published in Interior Design. A September 1982 profile could have been written today: Interviewed after already having survived the '70s recession, he again had to face an economic down turn. "He reasoned [the piece read] he might as well have a head start on the competition so that by the time the market picture brightened he'd be well established…sales ability is his strongest and most decisive asset…[but he keeps] control over design execution of projects. "The positive outlook has never changed. Also consistent has been his determination to ally himself with highly qualified experts to co-shoulder responsibilities. In early 1993 he took on Neville Lewis, another Hall of Fame member of 1987.
Perhaps attributable to his South Carolina childhood are his soft-voiced manner, his gentlemanly and generous ways in dealing with people. Only the Southern accent is missing.
What's not missing is an unimpeded expansion that started during the late 90's. With the current economic downturn, The Switzer Group headed West–to seek other business opportunities–and South, focusing on markets in Washington, D.C., Atlanta and Miami, forging new relationships. Lou has always maintained long term relationships, continuing to experience 80 percent repeat business: indeed his first two clients, IBM and Citibank are still with the firm. This ethic, the foundation of the business also extends toward employees. He says, "When I built this firm I wanted not only to instill longevity and long term relationships with our clients, but I also wanted to develop longevity and long term relationships with our employees. So I tend to view the company as one where we've all grown up together in a sense, and we've all had a hand in working together by building the organization." And now, a new relationship involves a relation: Lou's son Gregory, a go-fer for the company when he was 13, has become involved, in charge of the Atlanta operation, helming marketing and external communications.
Locations such as London and Australia have become affiliates, dealing with issues such as code and production; when The Switzer Group's physical presence isn't necessary abroad, they can mind the store back home.
Lou has been showered with numerous community and industry awards and honors, including his induction into the Interior Design Magazine's Hall of Fame. In 1994 he was bestowed with the Ellis Island Medal of Honor by the National Ethnic Coalition of Organizations in New York. The national Association of Black Accountants named him Entrepreneur of the Year in 1987. He was also awarded Man of the Year in 1995 for his distinguished achievement and support of the Ace Mentor Foundation, where he is also a Trustee.
His participation in the community includes serving on the Board of Trustees of the Design Industries Foundation Fighting AIDS, and formerly on the Board of Directors of the Bedford Stuyvesant Restoration Corporation. He is currently a Board Member of the Metro New York Make-A-Wish Foundation. Professional affiliation includes membership to the Young Presidents Organization (YPO), Real Estate Board of New York, and The New York Building Congress.
An avid golfer, art collector and wine enthusiast, Mr. Switzer enjoys traveling and entertaining.