Louise Campbell's "Das Haus" for IMM Cologne 2014


Photo courtesy of IMM Cologne.


Up to 60 people can sleep in one bed in

Louise Campbell

's vision of the house of the future. The Danish designer will include an 860-square-foot mattress in her home simulation for

Das Haus—Interiors on Stage

, which will launch at the next edition of the annual furniture fair

IMM Cologne

on January 13-19, 2014.
Campbell, whose products include the Veryround armchair for

Zanotta

(2006) and the LP Shutters pendent fixture for

Louis Poulsen

(2012), is the first solo woman to be selected for Das Haus. Her house concept, titled

0-100. (Made to Measure.)

, is the third in the trade show's relaunched "Ideal House" series and will be installed on a 2,600-square-foot platform.
"This bed surface has nothing to do with '60s Danish sexual liberation," Campbell clarified as she unveiled preliminary models to a crowd of journalists attending the press launch in her sun-dappled studio in Copenhagen. "In my house we have three sofas, but we are always choosing the beds. If I really got to choose, I would still really rather be in my bed. My idea is to say, come in and really relax, and there will be plenty of bed space for all," she adds. The designer also credits the play on size and scale in Lewis Carroll's novel

Alice's Adventures in Wonderland

as an inspiration.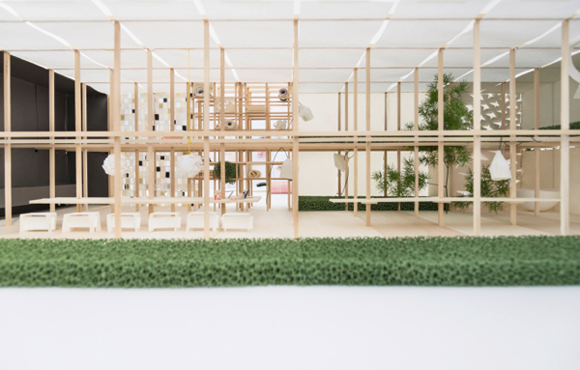 Photo courtesy of IMM Cologne.


The bed will be covered in removable, soft cotton-linen. Campbell asks, "Why do we upholster sofas with wool and clean them every 20 years—even when we sleep on them—but change our bed clothes once a week?" A 260-foot-long wall at the entrance will be dedicated to all things measuring. Beyond predictable kitchen supplies, the installation will include tools more likely found in a laboratory, on a construction site, or in a tailor shop. "On the table is a wrench and it can crack a coconut or fix something," Campbell explains. "It's a house where you can fix anything you want."
Based on the idea of a storage container, the wood exterior of the house, in contrast, is much more restrained. It will include a veranda and use every inch of available space, making it 700-square-feet larger than

Italian designer Luca Nichetto's 2013 house

. A new location in Pure Village hall 2.2 also means higher ceilings. "It's an almost boring grid in which anything can happen," Campbell says. "I want it to be open-minded. I'm highlighting the very basic values about a house in order to question whether there are some ways to rethink how we live. The way we choose to live is extraordinary conservative, when we come down to it."
With no real walls or entrance, visitors can approach from every angle. "You are very welcome to enter the house across the bed," Campbell notes. "We look for designers that are not yet stuck in their own self-made presence and design labels," says IMM Cologne creative director Dick Spierenburg. "This year we focused on upcoming Scandinavian designers, and what fascinated us about Louise Campbell was her passion for light, textile, and material."