Mariette Himes Gomez: 1994 Hall of Fame Inductee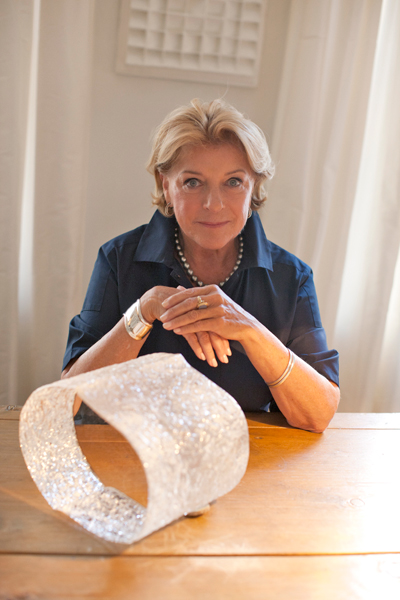 Mariette Himes Gomez's interiors are like the designer: open, warm, practical, and resistant to easy categorizing. In all her work, whether it's an interior, a piece of furniture or a tabletop design, Mariette seeks balance, repose and respect. She focuses on classic, modern design with an unpretentious sense of luxury and comfort.
"I modernize the classics and classicize the modern," says Mariette, a proponent of mixing periods to achieve timelessness, simplifying rooms to convey modernism, and giving objects space to be admired and to evolve. For Mariette, the best rooms quietly tell a story, providing a personal oasis of calm and allowing for continual, small discoveries. An author, lecturer and teacher, Mariette is not a champion of a particular style. Rather, her approach derives from the architectural character of a space and her sense of scale and proportion – in shape, color, light, material. Based on a geometric grid, she creates multiple mini-compositions within a room and a natural order that flows from space to space. The result is a series of pleasing sensory circles, offering an infinite arc of visual transcendence.
After attending the Rhode Island School of Design and graduating from the New York School of Interior Design, Mariette worked for Edward Durrell Stone, Albert Hadley, and Sister Parish before opening her own New York City-based studio,

Gomez Associates

, in 1975. With a wide variety of residential and commercial work, Mariette has tackled projects as compact as a personal jet and lakefront cottage to vast homes, estates and five-star hotel luxury suites, not to mention updating the oldest house in Washington, DC.
Her interiors are imbued by the place and its architecture, but most importantly by the personal style of the people who enrich it. Because of that, her projects range from rustic to stately, relaxed to decidedly cosmopolitan. In 2014 and 2012,

Architectural Digest

listed Mariette as part of the esteemed AD100 top talent in Architecture and Interior Design. In 2014 and 2013,

Elle Décor

named Mariette as one of the "Grand Masters of Design" in their A-List Awards, saluting ten designers whose "status is beyond question, and their work continues to inspire and set the standard" in design. In 2010, she was also named one of "The World's 20 Top Greatest Designers Of All Time". In 2005, Mariette was named a Dean of American Design by

Architectural Digest

. In 2004, she received

House Beautiful's

prestigious Giant of Design award. Mariette was inducted as a member of the 1994 Interior

Design Magazine

Hall of Fame in recognition of her outstanding contributions to the design profession. Her work has been widely published, including

Architectural Digest

,

Traditional Home

,

House Beautiful

, The

New York Times

and

Town & Country

. She is the author of three books,

Rooms

– Creating Luxurious Livable Spaces (2003, HarperCollins) and

Houses

— Inside and Out (2007, Collins/Design), with her third,

Apartments

, published by HarperCollins in 2010. In 2011, she received the ASID Designer of Distinction Award, the American Society of Interior Designers' highest honor. In 2014, she was the first recipient of the Albert Hadley Lifetime Achievement Award from the New York School of Interior Design.
The consummate designer, Mariette is always creating — residences, furniture, home design accessories and tabletop objects. She was one of first in the industry to conceive and produce her own line of furniture. In 2001, she opened a retail store in the same building as her studio. Calling it The Shop, it is a design resource for other interior design professionals and the general public. In 2002, she introduced her signature line of furniture by Hickory Chair Furniture Co. Available at furniture and department stores nationwide as well as to the trade, the collection with its important additions at the Spring 2009 International Home Furnishings Market, now comprises more than 120 pieces presenting classic silhouettes and styles with a modern attitude and attention to detail, finishing and material. The Hickory Chair showroom hosts an exhibition of Mariette's photography, which is available through the Soicher-Marin Gallery in Sarasota, Florida.


<<Back to All Hall of Fame Members