Massimo Vignelli, Design Icon, Dies at 83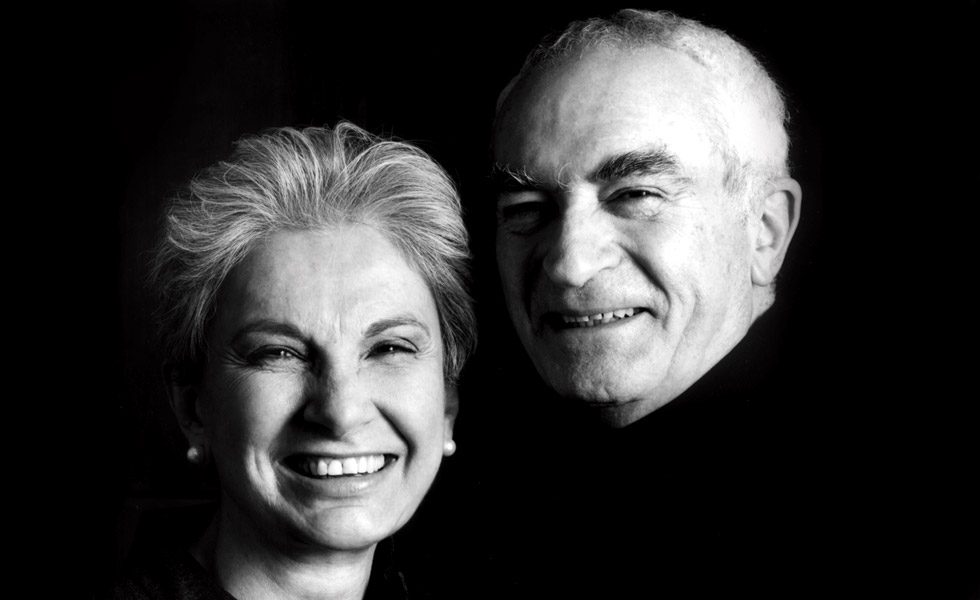 The late Massimo Vignelli with his wife, Lella Vignelli.



Visionary designer Massimo Vignelli died on Tuesday at his home in Manhattan after a long battle with illness. He was 83 years old. His loss will be felt substantially by the industry, which has enjoyed the influence of his work for over 50 years. His brown paper shopping bags for Bloomingdale's, the classic 1966 Stendig Calendar, and his massive 1972 redesign of the New York subway map are just as relevant today as they were at first conception. In Vignelli's words, "If you do it right, it will last forever."
Vignelli was born in Milan in 1931. At age 16, he began studying and working in the office of a local architect. At 18, he studied architecture at the Politecnico di Milano, then the Universita di Architettura in Venice. Soon a self proclaimed "architecture groupie," he was running in the same circles as architecture greats like Le Courbusier, Mies van der Rohe, Alvar Aalto, and Charles Eames.
Vignelli met his future wife, Lella, at an architecture convention and they married in 1957. After three years, they opened an architecture and design firm in Milan, designing for European firms like Pirelli, Rank Xerox, and Olivetti. They moved to New York City in 1965, and by 1971 they had established

Vignelli Associates

, later renamed Vignelli Designs in 1978.
"If you can design one thing, you can design everything," proclaimed Vignelli, and he did just that alongside his wife for five decades. The acclaimed graphic designer had a prolific career giving shape to his spare, modernist vision in book covers and shopping bags, furniture and corporate logos, even church pews. Vignelli preached clarity and coherence and practiced it with discipline in everything he turned out, whether kitchenware, public signage, subway maps, or home interiors.
Massimo Vignelli received a number of awards throughout his career, including the AIGA Gold Medal and the National Lifetime Achievement Award from the Cooper-Hewitt National Museum of Design. He and his wife, Lella, were inducted into the

Interior Design

Hall of Fame in 1988.
In addition to his wife, Vignelli is survived by his son, Luca; his daughter, Valentina Vignelli Zimmer; and three grandchildren. During his last days of illness, Vignelli's son, Luca, requested that anyone who had been influenced or inspired by his father's work send him a letter. Designers from all over the world responded and wrote notes of appreciation and gratitude. Many posted those notes online as well with the hashtag #dearmassimo. The tribute was a testament to his influence and how many lives he had touched during his career, which, unquestionably, will continue to inspire and enthrall young designers for many decades to come.


Vignelli with his proposal for the Washington Metropolitan Area Transit Authority in 1968. Photo by Jim McNamara/The Washington Post.