Material Play: Sputnik Chandelier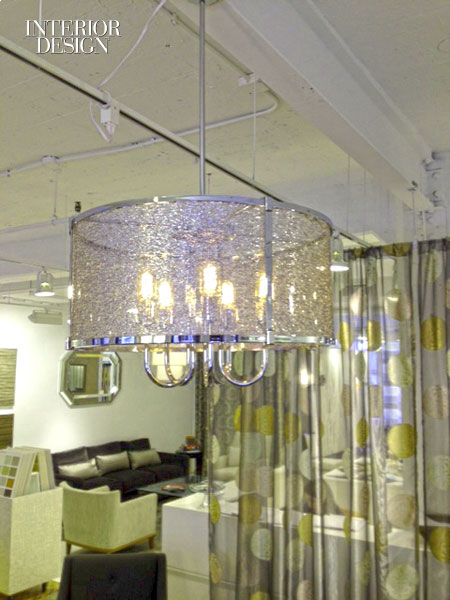 When Marcy Russ opened Blended Blue in the Minneapolis IMS Design Center she envisioned a showroom that wasn't cluttered, with lines that flowed harmoniously. Synergy is an integral part of her design philosophy, which can be seen in her curation of fabric, furniture, lighting and wall covering products.
Seeking ways to incorporate textiles in unexpected ways, Russ is always on the lookout for new materials. It was both the drapery's shimmering surface and its  construction that struck the self-described textile fanatic  when she first saw Brentano's sputnik fabric. The eco-friendly material's interaction with light made it the perfect core component of a new fixture. "It's thermoplastic polyurethane with an intricate scribble painting; it's like cracked glass, but see-though," explained Russ, who decided that the slivermaterial could be used in a new lighting design.


As a result, Russ went to one of the showroom's manufacturers, AYRE Architectural Lighting, and asked them to create a custom chandelier using sputnick. "Design Director Bruce Barnett took my sketch from 0-60 in just a few days," said Russ. "The 3-d rendering that arrived in my inbox was perfect." The fixture itself is made of highly polished nickel;  a clear acrylic drum shade is wrapped with the fabric, and an amber light-bulb glows through.
In addition to non-traditional uses in lighting, Russ notes that  textile innovation in other product categories is growing, with some outstanding results. "There have been so many strides with polyester, " she said. " It can be anything now, giving designers a broad range where they can use materials, and how."  On the opposite spectrum, Russ  has also seen an increased interest in hand-made, textural materials. "It's indirectly related to how technical our world has become. People want to feel comforted at home, and soothed in theoffice. Textiles make our lives wonderful."