Maya Romanoff Opens New Manhattan Showroom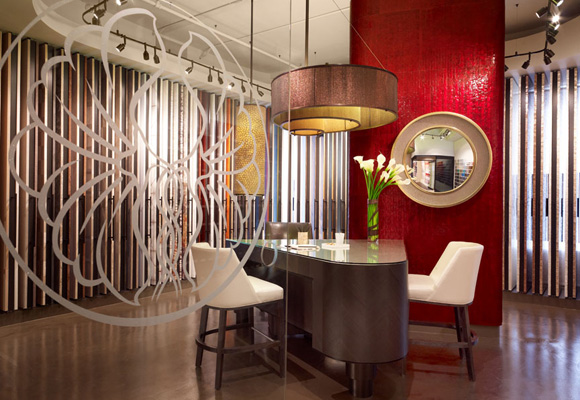 Industry stalwart

Maya Romanoff

has just finished work on a new Manhattan showroom, a 550-square-foot space conceived for the 43-year-old wallcovering firm by designer Tom Marquardt of Marquardt +. The new East Side destination makes it debut  a year after Romanoff unveiled its current flagship location at Chicago's

Merchandise Mart

. The new location is only a fraction of the size of its midwest counterpart, but it packs a mighty textile punch: into a space 80-percent smaller, Marquardt and Romanoff have wedged fully 76 percent of the company's product. Custom fixtures abound, including a "magnetic wall" in which sample upon sample of wall treatments are encased behind plexiglass panes.



Located inside New York's

Decoration & Design Building

on Lexington Avenue near 58th Street, the new showroom picks up some of the visual cues and themes that have been a part of the Romanoff brand for decades. As the company describes it, the interior scheme drew inspiration "from temples and other places of reverence [creating] a space with exceptional elegance and quality in combination with the earthen sensibilities, textures and palettes found throughout the product line."

Maya Romanoff

, the company founder, made his name in the late 1960's and early 70's for extravagant public displays of tie-dyed and patterned fabric, often draped over public buildings. Romanoff still directs the firm today in collaboration with his wife Joyce, who oversaw the showroom revamp.
Images courtesy of Maya Romanoff.