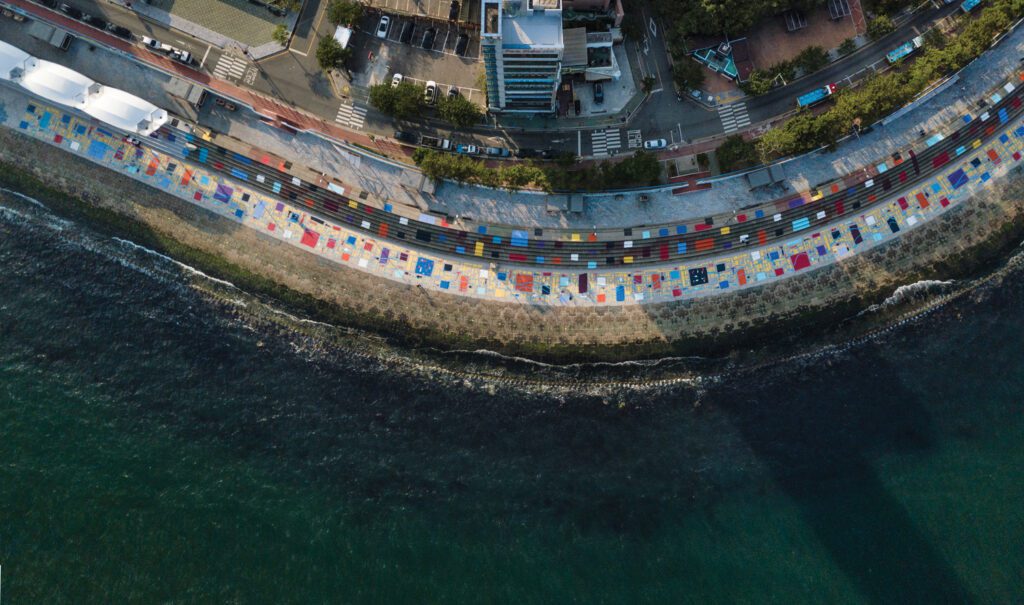 Migliore + Servetto Architects Creates a Graphic Installation in South Korea to Encourage Safe Distancing
Since the beginning of the COVID-19 pandemic, social-distancing markers have become ubiquitous in public spaces. But too often they're rendered as generic stickers or hastily taped off squares indicating the recommended 6 feet of separation. For the Millak Waterside Park, which overlooks the Korea Strait in Busan, South Korea, however, the Ministry of Culture, Sport and Tourism launched a competition to design a graphic installation that would designate safe distancing while also enlivening the public experience of the park. Milan's Migliore + Servetto Architects won the competition with "Waterfront Door/Into the Ocean," a nautically inspired pattern of repeating squares, rectangles, and whimsical marine motifs. The firm's drawings were translated to full-scale by a team of 40 hometown artists, providing work oppor­tunities for a sector that has been seriously affected by the pandemic.
"It's a great example of the fruitful, cross-cultural exchange between Italy and Asia," Ico Migliore says. The large, brightly colored shapes, which were painted on a nearly half-mile stretch along the waterfront, indicate places for visitors to stand or sit on the promenade. Thin waves of ocean blue flow through the pattern, while shark and octopus silhouettes swim alongside. "It's now a place that invites people to inhabit it," Mara Servetto adds. From 6 feet apart, of course.