Milan Gallerist Nina Yashar Shelters in Place
Since Nina Yashar opened her Milan gallery Nilufar in 1979, she has been filling collectors' homes with preeminent examples of 20th-century design. Thanks to the COVID-19 lockdown, she is finally savoring her own domestic sphere. "Normally, my home is like a hotel. I spend very few hours here," Yashar says by phone from one of her apartment's four terraces, birds chirping amid her prized roses and irises. "Quarantine really changed my perception. I feel much more protected now, like I live in a cocoon."
Born in Iran and raised in Italy, Yashar exudes a sophisticated but accessible glamour that she replicates in the 3,200-square foot, 1940s duplex she and her husband bought 30 years ago. Jeweler GianCarlo Montebello, who also designed Yashar's Via della Spiga gallery and has produced pieces for artists like Lucio Fontana, Sonia Delaunay, and Alex Katz, helped the gallerist transform what she calls an "architecturally poor" space into an airy, art-filled redoubt.
Montebello says his goal was adding both "domestic functionality and very Italian and Mediterranean aesthetics." He tinted the white walls with natural powders to create rose, blue, and gray hues, and covered them with frescos, graffiti, and engraving. "The colors are always alive, like a painting," Yashar marvels. "GianCarlo is an incredible engineer of light."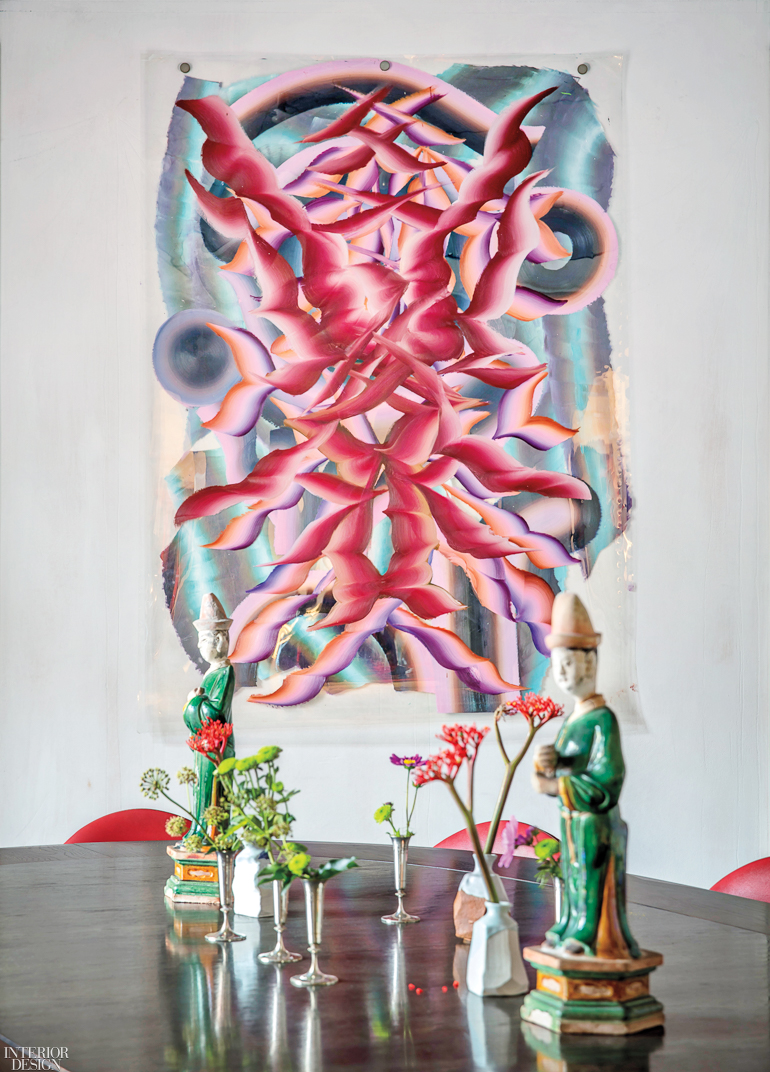 Her professional obligations somewhat curbed, Yashar is using her curatorial skills at home. Spending hours on her terrace, she's added more furniture there, including a Mathieu Mategot 1956 metal trolley. In her bedroom, where she now eats breakfast every day, she's replaced a striking but severe Verner Panton cone chair with a rare and commodious Gio Ponti armchair.
Some items remain sacrosanct: 1960s ceramic vases by Fausto Melotti; a pair of oversize consoles Ponti designed for Sorrento's Hotel Parco dei Principi; the dozen red vinyl-upholstered chairs, designed in the 1950s by Carlo Mollino for the Lutrario Dance Hall in Turin, at her dining table. Once the pandemic ends, Yashar will fill those seats again with the friends she's accustomed to entertaining. "It's part of my vision—in my home and in my gallery—to live with collectible pieces and furniture," she says. "I think design has to be used daily, and to be shared."