Sponsored Content: Missoni Home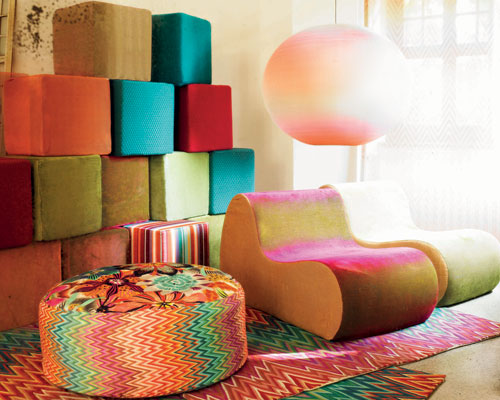 Polychrome palettes and high-intensity patterns pack a punch in Girandole, a collection of fabrics, pillows, and rugs conceived by Rosita Missoni as an amalgam of nature and fantasy. Consider the difference in effect when Nabal, a solid knit in Trevira CS polyester, or Nacimiento, a multicolored stripe in polyester taffeta, covers the precise same cube ottoman. Nuh, a viscose velvet, can lend two-tone iridescence to slouchy lounge chairs, paired with a pendant fixture's globe shade in Noja polyester. Or use two fabrics at once, for example Neda, meant to mimic the passion flower in full bloom, and Narboneta, a prismatic zigzag, on a single round ottoman. Narboneta coordinates with the chevrons of the chain-stitched Novaleno rug. Finally, a kaleidoscopic flower graces the Noceda cotton on the Patchwork pillow. 39-0331-950311;

missonihome.com

.

Girandole collection by Rosita Missoni. Photos courtesy of Missoni.