Mixed Metals and Materials Create Myriad Moods
Since 1985, Hudson Valley Lighting® has been producing distinctive products of unmistakable quality for residential and contract settings. From the brand's New York-based headquarters, an in-house team creates unique designs, using the historic Hudson Valley area as its muse. Styles range from historic and artisan to transitional, mid-century modern and contemporary. Hallmarks include exquisite detailing; fixtures imbued with crystals, Aragon alabaster, handblown smoked and clear glass, polished chrome and fine linen and silk shades. Many fixtures incorporate the latest LED technology.
The designers at Hudson Valley Lighting leave no detail unexamined. Mixing metals with a studied eye on both the aesthetic value and the reflective quality of the respective metals is paramount to Hudson Valley Lighting. Every collection has its own personality which defines not only the overall look, but the design DNA of the collection. Beautifully designed end caps, exquisitely designed finials and solid brass backplates are cornerstones of the brand. It's no wonder Hudson Valley Lighting engenders such loyalty from designers and homeowners.

Abrams mounts elongated candlesticks of finely finished metal into wide black cross-pieces to produce a work of minimalist sophistication. The Barron collection is an homage to early 20th century Danish architecture and design, applying layered, curved shades to light fixtures with a floral bent.

Merging organic modernism and glamour revival, Burbank captures the inimitable swank of West Coast style.

Herkimer is a unique update of Danish mid-century modern lighting principles with its thick top shade contrasting in texture and width with its perforated shade.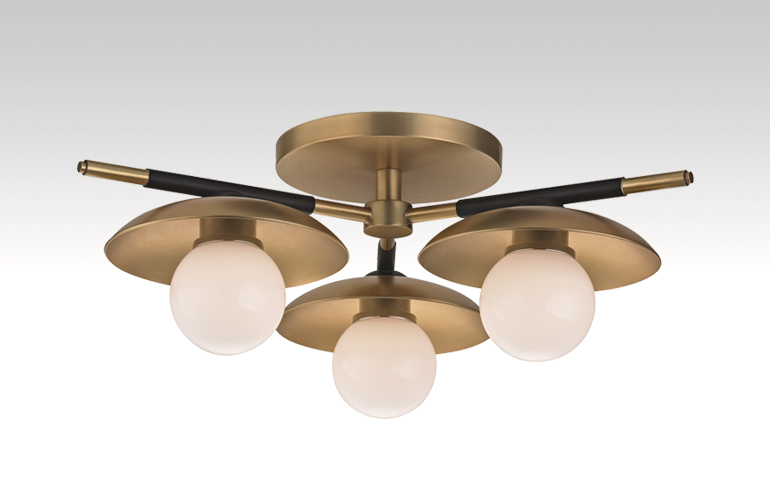 Julien feels both mid-century modern and futuristic with its textured black and metal contrast, satellite shades, and LED bulbs.

Hard and curved lines and mixed metals provide a satisfying contrast to La Grange, while handsomely concealed lamp sources create up and down lighting.