MoMA and MoMa PS1 Form YAP Korean Partnership



The winning design, Shinseon Play, is inspired by East Asian mythology.




The Museum of Modern Art

,

MoMA PS1

, and the

National Museum of Contemporary Art

(MMCA) in Seoul have announced a new partnership that will expand the

Young Architects Program

(YAP) to South Korea, debuting July 2014. The inaugural winning team for YAP Korea is the firm Moon Ji Bang (meaning Threshold in English) comprised of architects Choi Jang-won, Park Cheon-kang, and Kwon Kyung-min. The project was chosen by a panel of six jurors including representatives from both museums and as well as from other YAP international programs.
Moon Ji Bang's design, Shinseon Play, is inspired by East Asian mythology referencing Taoist hermits. A trampoline placed among a forest of balloon structures will allow visitors to interact with the space and move between spaces meant to symbolize heaven and earth. A bridge that pokes above the "tree" tops will allow for a vantage point of the nearby Kyunbok palace and Iwang Mountain in Seoul.
The installation will fill MMCA's Museum Plaza July 8 through October 5, 2014. During that time, the proposals of the five finalists (as well as rest of the 26 general YAP candidates) will be introduced and displayed in Exhibition Hall 7. The presentations of the finalists will then go on tour, to be exhibited at MoMa, MAXXI, Istanbul Modern, and CONSTRUCTO in Santiago.
Established in 2000, YAP is a series of collaborations with MoMA that sponsor yearly competitions to create temporary projects for outdoor spaces. The original partnership 10 years ago created a summer structure for the MoMA PS1 facility in Long Island City, Queens. Since then, YAP has expanded internationally, annually allowing emerging architects to design and build temporary installations at CONSTRUCTO in Chile, the National Museum of XXI Century Arts (MAXXI) in Rome, and Istanbul Modern in Turkey.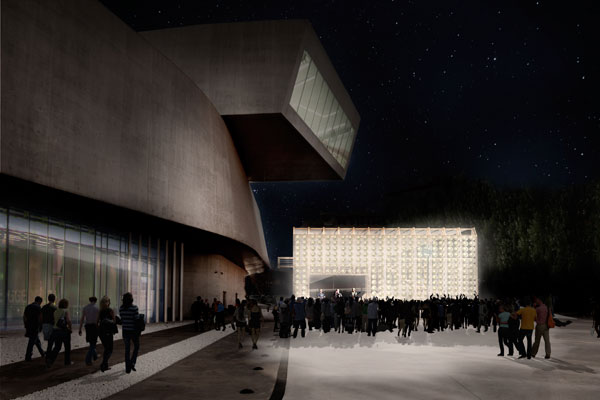 Orizzontale won Rome's YAP MAXXI 2014 for its proposed timber podium and wall of recycled beer kegs.






Grupo Talca won YAP Chile for Wicker Forest, with all materials to be recycled at the installation's close.