More to Tile Trends Than Squares
There is a lot of tile at Cersaie, but that goes without saying if you're attending the 37th edition of the International Exhibition of Ceramic Tile and Bathroom Furnishings in Bologna, Italy. Often hailed as the most important European surface show of the year, each fall over 112,000 visitors walk the exhibition halls, nearly half of whom hail from outside Italy.
With 889 brands exhibiting new innovations, products, and collections, there is a lot to see over the five-day exhibition. Manufacturers, distributors, buyers, leading designers and architects rub shoulders to get a look at the most talked-about innovations in tile.
Much of the trends seen at Cersaie this year carried forward from last year's show and from events earlier in year such as Salone del Mobile and Milan Design Week. With a palette that definitely appeared to be heating up, warm neutrals and earthy hues were abundant. Gray surfaces and plenty of marble effects were still appearing, but could gray be falling out of favor as the neutral of choice? While last year was all about the technology that produces extra large oversized porcelain slabs, this year showed that using these slab as "raw" materials brings the ability to expand beyond walls and flooring to enter the furniture arena.
Fap Ceramiche showed a collection of basin units created from their extra large format tiles, including the Roma collection and Iris Ceramica, forming a meeting room where walls, floor and table were all created in the same porcelain slab.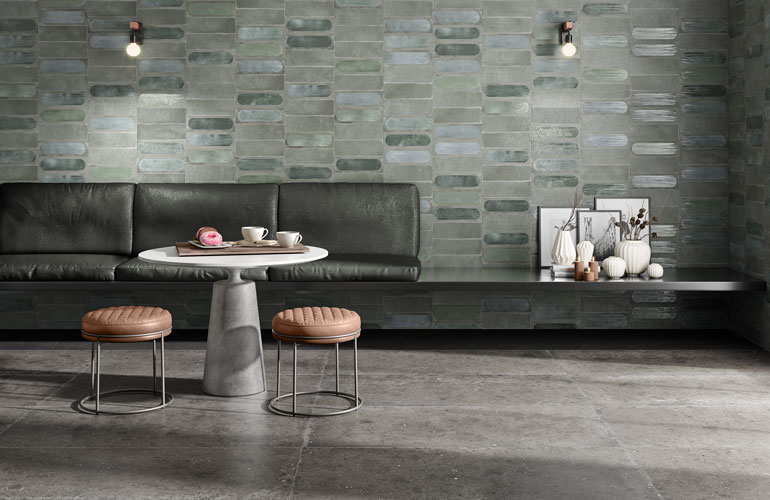 "This year the return of color was the main inspiration of our work. In a market where products are more and more homogeneous we try to think of something different in graphics, shapes and colors, too," Davide Tonelli, Art Director for Ornamenta.
Themes that prevailed across the halls included the desire to unwind and disconnect from the digital world, minimizing consumption through thoughtful eco-credential choices, and the role of ceramics in creating healthy environments. Of the tiles themselves, large format stone and marble effect were still prevalent, however 3D textures, decorative relief, and tactile rugged finishes were having their moment.
Seen at Fap Ceramiche, Isla and Mode by VitrA, crafted material implying hand-touched imperfection with irregular finishes such as Matter by Settecento, and Mosaico+ played heavily on the tactile trend.
In some cases, this was also paired with unique glazes, as displayed by Cotto Etrusco, Pecchioli Firenze and Enso by Wow design.
Reflecting some of the emerging trends seen in fashion and packaging design, Spectre, a rainbow effect hologram tile headlined at 41zero42, is a brand that often takes the directional lead. While over at Dune, Aparici, and Unica metallic finishes were to be found. Another development of note was the use of blue marble effects on tiles, which seemed to be splitting opinion.
Cersaie isn't only about tiles and in the halls that showcase bathroom furniture and hardware color was having a moment. The Artceram previewed a range of colored basins and sanitary ware and the Italian contemporary bathroom brand Ceramica Flaminia, which championed color for many years, unveiled Flag, a series that combines two tones.
Spanish brand Fiora's stand brought texture to the forefront of its material development. Collaborating with Milanese designer Simone Polga they created Spring, an arid earth like texture in polyurethane for use in their shower trays and surfaces.
Pulling in the biggest crowd was Devon & Devon with several new products including Kalos, the washbasin designed by Massimo Iosa Ghini and made entirely in White Tec, a mixture created exclusively for Devon & Devon.
Design innovations in tile was also a top trend spotted by the National Kitchen & Bath Association (NKBA) Style Spotters at Design Chicago at LuxeHome in Chicago in October. Learn more and see their favorite tile finds and more here.