Mosa Teams With Lush Cosmetics to Spearhead Sustainable Retail
The pursuit of health and wellness is all the rage these days. No brand typifies the feel-good, do-good ethos of this craze better than Lush Cosmetics. Famed for their environmentally friendly, cruelty-free, ethically sourced hair and body products, Lush has the health and wellness retail market cornered. In just 23 years, Lush has exploded around the globe and ushered in a new way of thinking about the ethical obligations and opportunities of consumerism in the new century.
But like a traditional retailer, Lush depends on an expertly crafted brick-and-mortar stores to bring people into the fold. They don't have their hand in the architectural materials market, so they needed to find a brand that shared their dedication to a cleaner world. That led them to Mosa—specifically the Terra Greys collection—which can be found in over 40 Lush stores worldwide.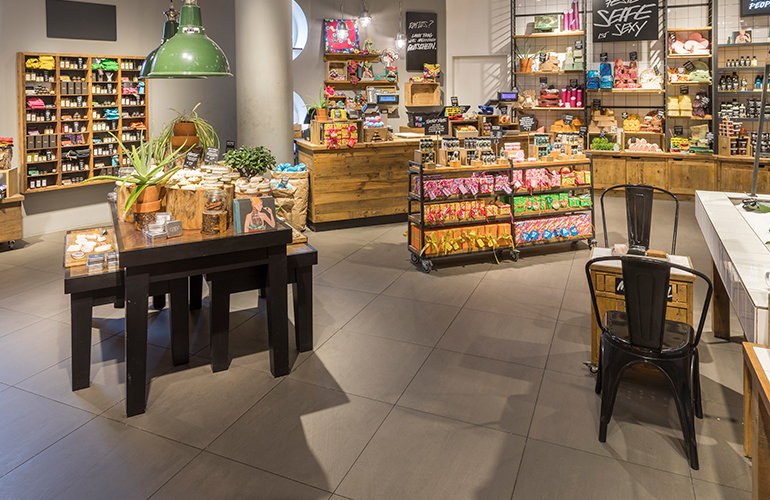 "What we've learned over the years is how to produce high-quality and quantity products while keeping a close eye on our impact on nature and humans," said Nick Gumery, store design buyer for Lush Cosmetics. "When I look for materials, the exchange has to feel fair and we try to stay away from materials or processes that harm the environment. Sometimes this is hard to achieve, but we're willing to go that extra mile and expense."
Mosa shares this philosophy. The Dutch company pioneered sustainable design practices when it became the world's first and only ceramic tile manufacturer to gain full Cradle to Cradle Silver certification. Their three-pillar strategy assures specifiers that not only are the products earth-friendly, but their production was also subject to Mosa's rigorous self-monitoring. This strategy assures designers that products such as the Terra Greys collection not only adhere to the highest professional quality but will stand up to even the most demanding environmental certification programs.
"We loved the look and feel of the tiles but what clinched the deal was our visit to Mosa's factory in the Netherlands," explains Gumery. "Touring the site, visiting the designers behind the collections, seeing the processes and materials that create the product, hearing their approach to sustainability, and the incredibly tight quality control over every tile—these are the reasons it was clear that Mosa would enhance Lush stores in appearance and genuinely support what our brand stands for."