Moshe Safdie Exhibit Marks Completion of Skirball



Safdie's entrance to the Marina Bay Sands Casino, Singapore. Photo by Timothy Hursley.



This October, the

Skirball Cultural Center

, one of the nation's leading Jewish cultural institutions, will unveil the finale of its 30-year partnership with legendary architect, urban planner, and theorist Moshe Safdie: the final two buildings of a 15-acre complex in the Santa Monica Mountains. Explains Robert Kirschner, Skirball museum director, "Our visitors are invited to view Safdie's work not only in our Museum galleries but in the full-scale example of the Skirball campus itself. It is an extraordinary opportunity to meet an extraordinary architect." Best known for his pioneering Habitat 67, one of the first large-scale projects utilizing pre-fabricated units, Safdie's original design for the Skirball was completed in 1996. He has spent the last 17 years expanding the campus, referencing ancient Jewish aesthetic traditions in a palette of white concrete, pink stone, stainless steel, and glass. When the final phase opens this fall, the center will include the new Herscher Hall and Guerin Pavilion, an 80,000-square-foot complex of classrooms, conference spaces, gardens, and 1,200-person-capacity grand hall. "From the very beginning, Moshe Safdie has been a vital member of the Skirball Cultural Center's planning team, contributing as much to the shaping of our program as to the buildings that give it form," said Dr. Uri Herscher, founding president and CEO of the Skirball Cultural Center.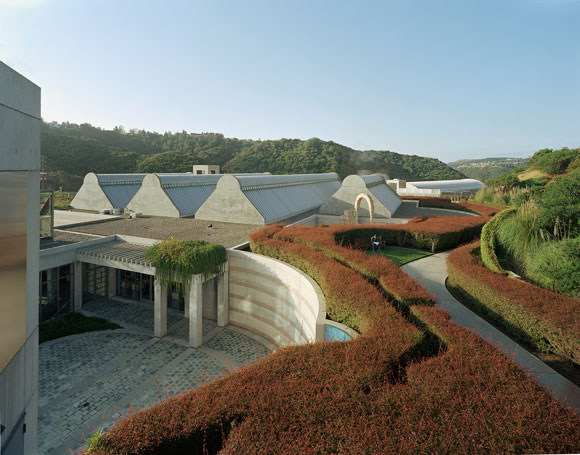 Rooftops of the new Skirball Cultural Center by Moshe Safdie. Photo by Timothy Hursley.




In celebration of the campus's completion, Skirball will also host "Global Citizen: The Architecture of Moshe Safdie." This exhibition, a U.S. premiere, will survey Safdie's 50-year-long career, including models, video, sketches, and other archival materials. Curator Donald Albrecht organized the show into five sections, including sections on Safdie's revolutionary early work; his many projects in Jerusalem, including his remarkable Yad Vashem Holocaust Museum, which juxtaposes a triangular concrete shell with a 200-meter-long skylight; and his recent Asian expansion, with projects like his 2011 Marina Bay Sands, a 10-million-square-foot integrated resort and urban district on the Singapore waterfront. The exhibition will run at the Skirball Cultural Center in Los Angeles from October 22, 2013 through March 2, 2014, before opening at Arkansas'

Crystal Bridges Museum of American Art

in the summer of 2014.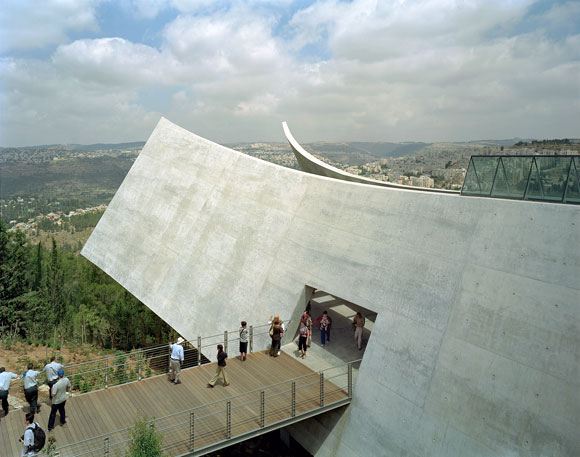 Safdie's Yad Vashem Holocaust Museum in Jerusalem. Photo by Timothy Hursley.