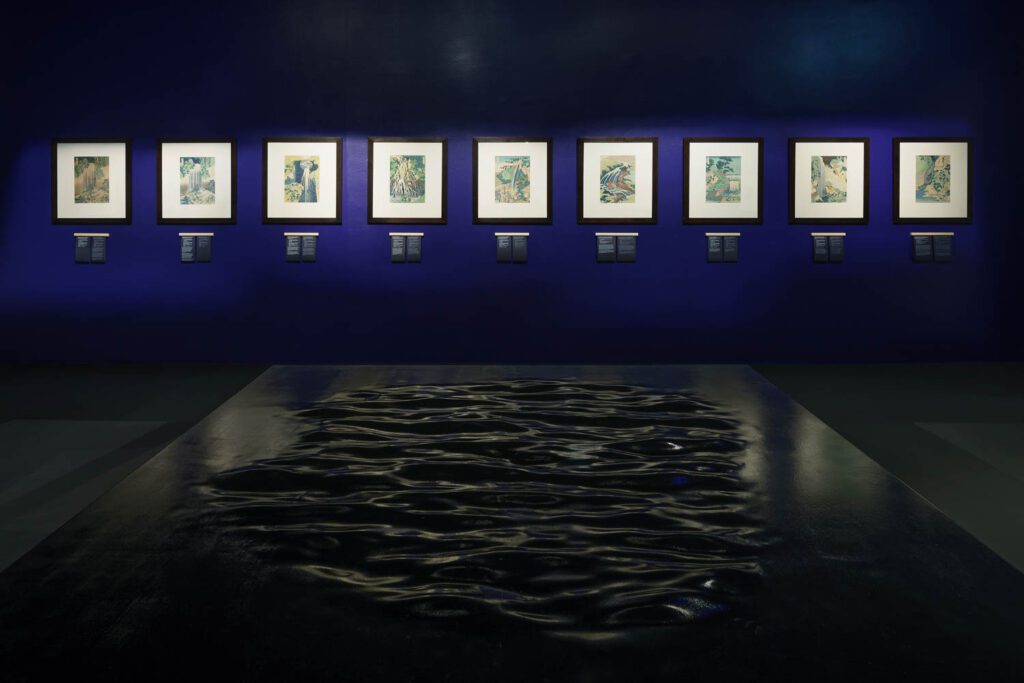 NArchitekTURA Distills the Nature of Katsushika Hokusai for an Exhibition of His Prints at the National Museum in Krakow
With their evocative stylization of the natural environment, the 18th- and 19th-century woodblock prints of Katsushika Hokusai have influenced generations of artists around the world. This fall, they've even shaped the very design of their own exhibition drawing on the collection of the National Museum in Krakow.
NArchitekTURA conceived the 6,000-square-foot exhibition "Hokusai. Passages…" as a series of four stone gardens in rooms defined by golden display walls but otherwise mostly painted black. One notable exception is the central room with its expanses of satin navy referencing the deep sea blues, which color many of the Hokusai masterpieces on display. "I think exhibition architecture should interact with the art it presents," says NArchitekTURA founder and owner Bartosz Haduch. "The gardens serve for tranquility and contemplation, like similar ones in the temples of Kyoto. On the other hand, the location of such elements in museum rooms is a kind of distinguishing feature and surprise."
Wall texts were inspired by noren fabric dividers, while screens were painted with silver varnish in a nod to Japanese techniques of fuki bokashi and maki-e plating. But the interactions between the boulders and beloved depicted in works including The Great Wave off Kanagawa are the true stars of the show. "The shapes, colors, and textures of the selected boulders indirectly refer to the work," Haduch says. "And they were only borrowed for the duration of the exhibition," which ends in December. "After, they will be returned to decorate some new gardens in the future." And bring a little of Hokusai's nature back into the natural world.