NeoCon Preview: Textiles


1. Pigment in felted wool by

Designtex

.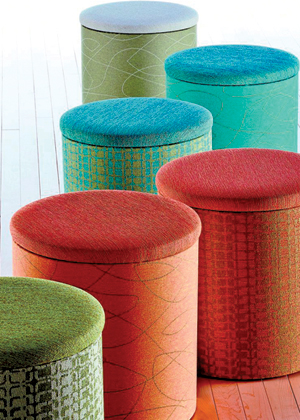 2. Opus solution-dyed polyester by

Mayer Fabrics

.
3. Zenus polyester in Iguazu in Spring, Aude in lime, Iguazu in Attic, and Aude in Night by

Concertex

.
4. Grid panel fabric in woven vinyl in black and Alabaster and Mini Basketweave wall textile in woven vinyl in black and white by

Chilewich/Sultan

.

5. Malta Trevira CS polyester in yellow 414 and orange 413 by

Carnegie

.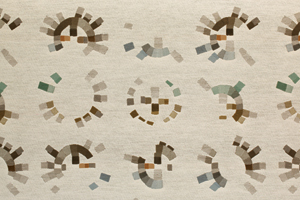 6. Colorwheel in cotton-nylon in Oat by

Maharam

.

7. Lucky Charm polyester in Citrus and Fiorina polyester and recycled polyester in Capri by

Kravet

.
8. Dotted Eclipse in

Sunbrella

acrylic in azure by the

Robert Allen Group

.

9. Boathouse Stripe solution-dyed acrylic in Monterey Bay, Summer Meadow, Berry Patch, Lakeside, Strawberry Fields, Herb Garden, and Morning Fog by

Perennials

.
10. The spectrum for Point Emboss, a polyurethane pattern that's part of

Teknion

Textile's inaugural Surface Tension collection.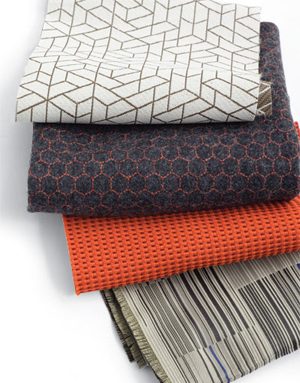 11. An unnamed solution-dyed nylon from the new collection above Stitchwool-polyamide blend, Cross Dye polyester, and Formation polyester-nylon by

Suzanne Tick

for

Teknion

.
12. The Heather wool-felt range by

Suzanne Tick

for

Teknion

.
13. Overlay, an acrylic, cotton, and polyurethane blend by

Suzanne Tick

for

Teknion

.
14. Soon, named after a song by My Bloody Valentine, is a geometric mosaic digitally printed on cotton sateen by

KnollTextiles

.

15. The repetition in Glider mimics a landscape as seen from an airplane, the cotton-bouclé ground accented with

polyester and nylon by

KnollTextiles

.
16. Biscayne travels to the Florida Keys, abstractly depicting the region's tropical vegetation in a polyester-nylon blend by

KnollTextiles

.
17. Titus, a detailed reproduction of

Emma J. Shipley

's silverback gorilla drawing, coordinates seamlessly with Tangled for

Camira

.
18. 18. The seven bleach-cleanable, abrasion-resistant polyester or polyester-nylon fabrics in the Aerial series include Whirl and Swivel (seen below), both of which come in eight colorways by

CF Stinson

.

19. Swivel by

CF Stinson

.
20. Fit by

Polartec

utilizes this company's synthetic fleeces, typically used for outdoor sports apparel, and translates them into a five polyester patterns packed with moisture-barrier technology and antimicrobial protection.