NeoCon's Standout Flooring Trends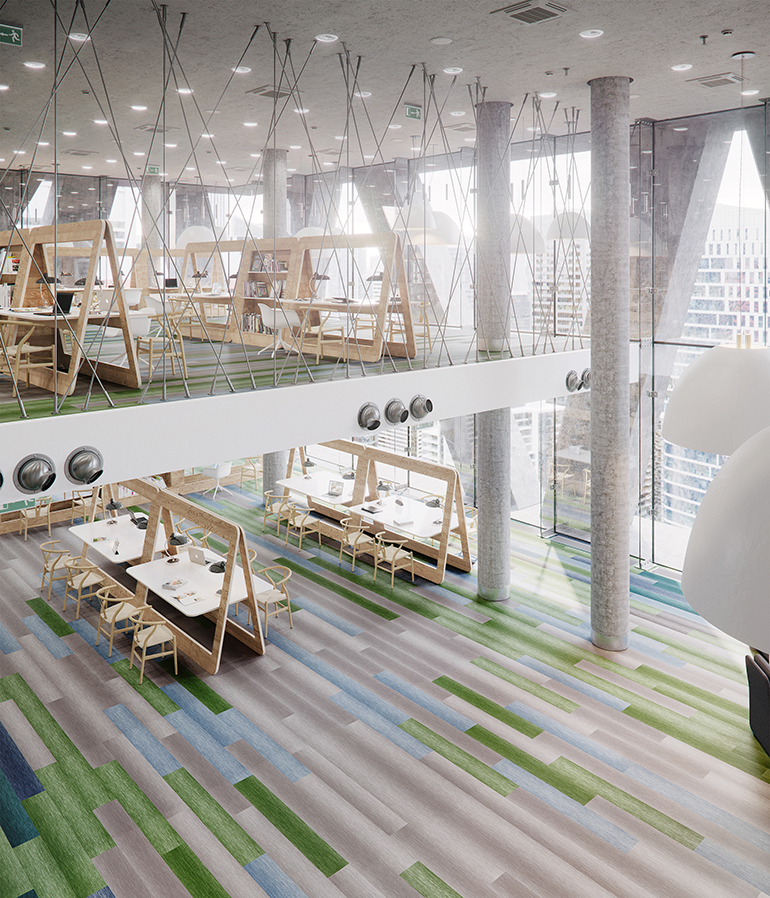 At NeoCon 2017, experiential design, biophilia, and innovative color-play took the lead. No brand embodied these key trends more than Mohawk Group, which showcased an array of high-performance products in its third-floor showroom. The brand also debuted their cutting-edge Visual Interactive Studio (VIS), a Best of NeoCon Gold winner, which allows designers to experience flooring installations in immersive 3-D before specifying.
Taking the lead is Lichen, the recipient of a Best of NeoCon Gold Award and the first flooring line to achieve a Living Product Challenge Petal certification. Designed by Living Product Challenge founder Jason F. McLennan, Lichen nods to its namesake's regenerative role in the ecosystem by returning more resources to the environment during its life cycle than it uses. "I always felt like lichen was nature's carpet," McLennan says. "So it was natural to make the collection suit many different applications."
Mohawk Group also revealed the Best of NeoCon Gold–winning Lineate, an enhanced resilient tile (ERT) that combines ombre color gradations with textile-like striations, its saturation ebbing across each plank to create abstract designs. "Lineate features bright, poppy colors that mix and match with neutrals to create dynamic installations," Mohawk Group designer Di Anna Borders says. We agree—that's why it snagged an Interior Design HiP award for hard flooring.
Learn more about Mohawk Group's new collections.