New York Graffiti Artist Futura Shares His Design Journey
Back in the heyday of urban graffiti, New York artist Leonard McGurr signed his out­door murals with the tag Futura2000. He painted scenery live onstage for 1981 con­certs by punk-rock band the Clash and showed in the same East Village gallery as his friend Jean-Michel Basquiat. In 1997, McGurr's Futura Laboratories began selling clothes in Japan. Abstract fine-art canvases by Futura, as he's now known, score blue-chip prices from collectors today. Recently, curators asked him to paint several of Isamu Noguchi's Akari light sculptures, designed between 1952 and 1986, for a stunning solo exhibition that ran this winter at the Noguchi Museum in Queens. He tells us more.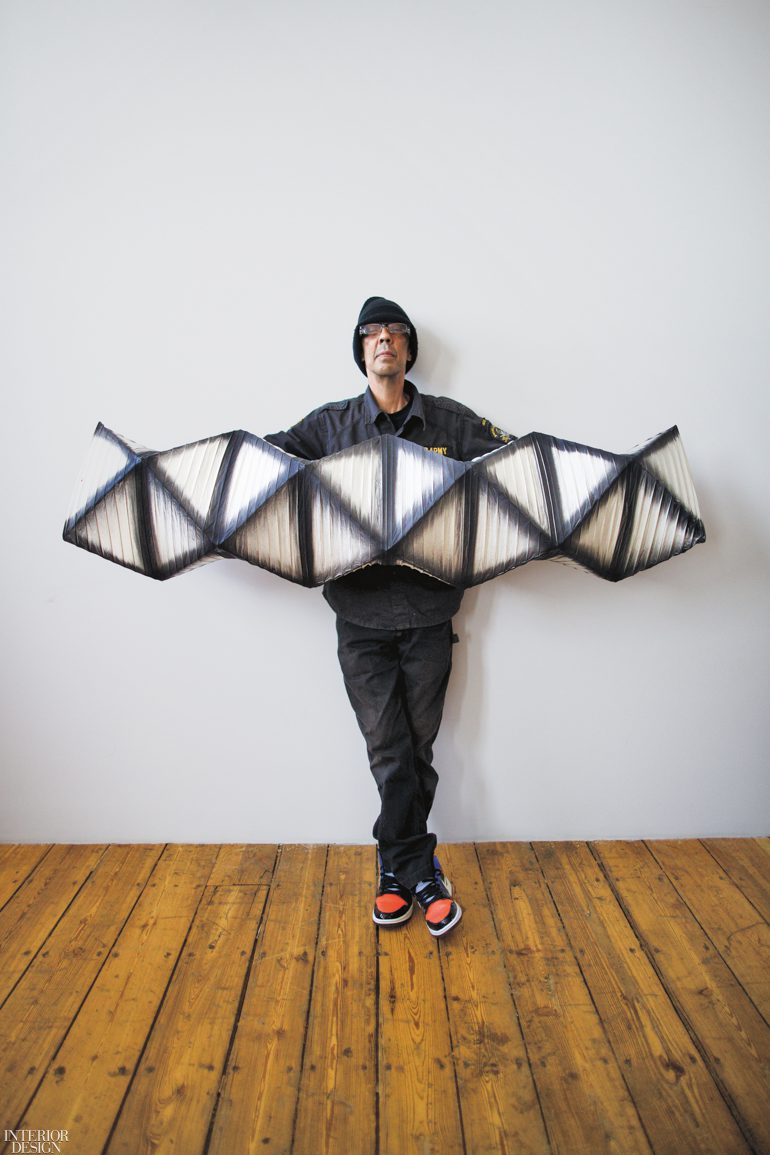 Interior Design: Decades ago, you started painting illegally outdoors, and now you're in the Noguchi Museum. Why?
Futura: I didn't go to art school, and I used to paint subway trains. But I can't have the "graffiti" ball-and-chain around my leg forever, so I am encouraged by a potential new audience wherever I find it. Let me evolve into something more interesting, without being pigeonholed.
ID: How did social media react?
F: I've gotten lots of Instagram hits from the Noguchi show. Direct messages ask, "Hey, are any Futura Akari for sale?" The museum is keeping them in its collection, although one piece might travel this year for a group exhibition in Japan. There's also talk about doing a limited edition of my painted Akari for collectors.
ID: What inspired you to introduce a Futura aerosol paint?
F: During the pandemic I tried to buy black paint. It's always required for drop shadows and outlines, but it was sold out. A Michigan company called Plutonium will offer six-packs of my new satin acrylic paint in black, the introductory color. Many graffiti artists have designed spray cans. And I'll tell you something funny: I get off more on the packaging than the paint itself.
ID: Your most recent Comme des Garçons fashion collaboration drops soon, and your latest Uniqlo clothing collection debuts for summer. Is the creative process similar for luxury and affordable brands?
F: Comme des Garçons is prestige and serves as legacy-building for me. We send artwork that designer Rei Kawakubo reinterprets into garments. But in a world of triple-digit T-shirts, it's also really nice to get something for $15. We designed moderately priced pieces for the Uniqlo collection ourselves, like new womens wear in an aerosol abstract print.
ID: What do you think about recent calls for diversity in design?
F: I'm the child of a Black mother and a white father. As a mixed kid from a family right above the poverty line, I feel like I'm the epitome of diversity. I also have so much history working in Japan, where I'm an outsider. But who cares? I can't determine what people think of me. I'm just opening doors and trying to help.