On the Move: Hilary Lewis Named Chief Curator at Philip Johnson's Glass House
The Glass House has appointed architectural historian Hilary Lewis as chief curator and creative director. "I'm thrilled to return to the Glass House," says Lewis, who served as the site's Philip Johnson Scholar in 2007. "Having sat side-by-side with Johnson for years, I feel confident that what would honor his and David Whitney's memory most would be for the property to evolve further as a center for the appreciation of architecture, design, and art."
Lewis met Johnson in 1992 while studying architectural history and urban planning at Harvard. After co-authoring two books, The Architecture of Philip Johnson and Philip Johnson: The Architect in His Own Words, recipient of the AIA International Architecture Book Award, she curated the 2008 show "Philip Johnson: Architecture as Art" at the Johnson-designed Kreeger Museum in Washington, DC.
Related:
Mystery and Transparency: Fujiko Nakaya's Fog Installation at the Glass House
Yayoi Kusama Affixes 1200 Vinyl Polka Dots to Philip Johnson's Glass House

More Design Industry News
HDR
HDR has expanded its practice in the Mid-Atlantic region by adding a team in Richmond, Virginia. The new team's leadership includes Sandy Shield Tkacz, healthcare principal; Bill Portes, senior project manager; and Dennis Cumings, senior project architect.

IA Interior Architects
IA Interior Architects has promoted managing principals Tom Powers and David Bourke to dual co-president and CEO. The announcement comes after David Mourning, IA's founder, president, and CEO, decided to transfer leadership. Buzz Riley and Julio Braga have been named managing principals in New York and Chicago, respectively, and Carolyn Tucker has been appointed managing director of Chicago.

R&A Architecture + Design
Los Angeles–based firm R&A Architecture + Design has named Alex Anamos (pictured) studio director and senior architect. Anamos, member of the AIA's Los Angeles chapter for over a decade, has also been elected to the AIA Board of Directors for the 2017-2018 term.
Design Museum Foundation
Design Museum Foundation has added six new members to its board of directors: Matt Edlen (Gerdling Edlen), Scott Englander (Longwood Energy Group), Lauren Jezienecki (Bozzuto Development Company), Elizabeth Lowrey (Elkus Manfredi Architects), Chokdee Rutirasiri (Story+Structure), and Madison Thompson (TMG: The Mediation Group).
Association of Licensed Architects
The Association of Licensed Architects (ALA) has named three architects to its College of Fellows: Bill Watkins, principal of the Watkins Building Group; Jeff Whyte, president of Architect Jeff White & Associates Inc.; and Lew Wilson, production principal at Sullivan, Goulette, Wilson, Chicago.

Lake | Flato
Texas-based architecture firm Lake | Flato has announced several staff promotions: Brandi Rickels, Jonathan Smith, Matt Wallace, and Todd Wascher to associate partner; Chris Krajcer, Graham Beach, and Lewis McNeel to associate; Kerry Phillips to project architect; David Ericsson to project director; Cotton Estes, Evan Morris, and Sunnie Diaz to project designer; and Cecelia Smith to marketing and communications coordinator.

Tate
Tate galleries has appointed Maria Balshaw (pictured) as director, succeeding longtime director Nicholas Serota, who stepped down in September. Balshaw will be the first woman to lead the organization.
Hobbs+Black Architects
Hobbs+Black Architects has announced three promotions in its Ann Arbor office: Wayne E. Chubb to senior vice president, Tom Dillenbeck to vice president, and Dan Pierce to associate.
Museum of Arts and Design
Museum of Arts and Design (MAD) has appointed two new trustees to its board: Andi Potamkin Blackmore of Le Mise and Squares Studio and Simon Bolton of Group XP. Michael Dweck, a trustee since 2014 and the chair of the finance committee, has been named treasurer.

lauckgroup
Texas-based interior architecture firm lauckgroup has announced 13 promotions in its Austin, Dallas, and Houston offices. In Austin, Joe Gowing has been named equity principal, Matt Taylor and Stephanie Long have been named associate principals, and Lina Murillo has been named associate. In Dallas, Melissa Cooksey has been named associate principal; Steve Breuer has been named equity principal; April Warner has been named associate principal; Rina Burnett, Michael Horton, Germane Hailu, and Matthew LoPresto have been named senior associates; and Caro Wilbanks and Sara Barnes have been named associates. In Houston, Julie Gauthier has been named associate principal.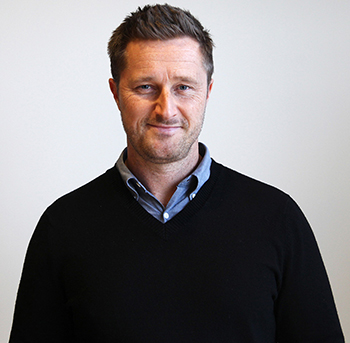 ZGF Architects
International firm ZGF Architects has promoted Toby Hasselgren (pictured) to partner. Hasselgren recently relocated to the firm's Washington, DC, office from Portland after two decades at the firm.
Ware Malcomb
International design firm Ware Malcomb has promoted Niki Ward to studio manager of interior architecture and design at the firm's Phoenix office. Andrew J. Kopy has also joined the firm's Houston office as regional manager.
Ziegler Cooper
Architecture firm Ziegler Cooper has promoted 11 team members: Jim Zemski, managing principal; Gwen Kelly, associate; Angela Mayer, senior associate; Liz Friedman, Manuel Navarro, Bin Yu, Dawna Houchin, Sandra Morrison, Eric Korth, and Susan Dieterich, associate principals; and Denny Simon, principal.

Camira Fabrics
British textiles manufacturer Camira Fabrics has hired Kelly Queen, formerly of Maharam, as regional sales manager.
Gunlocke
Contract furnishings manufacturer Gunlocke has added four new managers to its regional sales networks: Donna Dapice, Metro New York regional manager; Monica Maggi, Metro New York business development manager; Beth Brown, North Texas and Oklahoma business development manager; and Kasia Johnson, South Florida business development manager.
Pindler
Sean Quinn has been named president of Pindler, overseeing the company's sales and operational departments.