On the Move: Louis Vuitton's Objets Nomades Series

Louis Vuitton's

Objets Nomades series challenges 11 A-list firms to discover the art of travel by conceiving 16 mobile-minded furnishings and accessories, all in limited editions.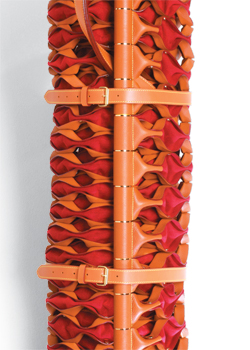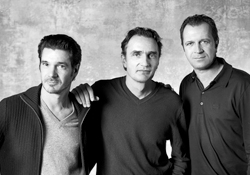 Product:

Hammock

Standout:

Partners Armand Louis, Patrick Reymond, and Aurel Aebi's hanging bed is woven from leather and reinforced with gilded rivets — and rolls up into a slender cylinder.

Standout:

An aluminum ring fitted with OLEDs dangles from braided leather, which can attach to—and illuminate the dark recesses of—any purse or tote.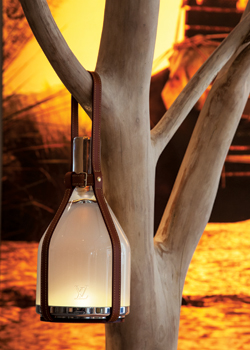 3. Designer:


Barber Osgerby


Product:

Bell

Standout:

Classic meets contemporary in Jay Osgerby and Edward Barber's lantern encasing a solar-powered LED in a leather-bound Murano glass diffuser.

4. Designer:


Clino Castelli


Product:

Love

Standout:

Six layers of pressed sculpted leather joined with a puzzle hinge form a slightly inclined, and collapsible, seat—close contact is practically unavoidable.

5. Designer:


Constance Guisset


Product:

Col de Voyage

Standout:

Practically worthy of being a fashion accessory, this neck pillow's tiered cushions are covered in cotton in a palette of sophisticated neutrals.

6. Designer:


Christian Liaigre


Product:

Travel

Standout:

A leather handle and straps and a folding top and legs make the maple-framed desk, measuring 22 by 29 by 35 inches when open, portable.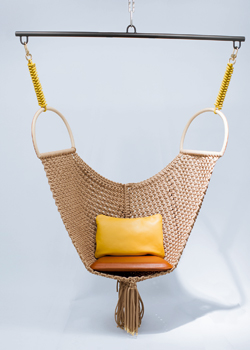 7. Designer:


Patricia Urquiola


Product:

Swing

Standout:

Gold-plated hooks and PVC-polyester fasteners attach to a steel support bar at one end, and to woven polyester mesh cradling leather-upholstered cushions at the other.

8. Designer:


Maarten Baas


Product:

Beach

Standout:

A resin-covered clay frame supports the cotton-strap seat and back; when closed, the chair resembles a square attaché case, complete with leather handles.