On the Move: Recent Top Promotions and Hires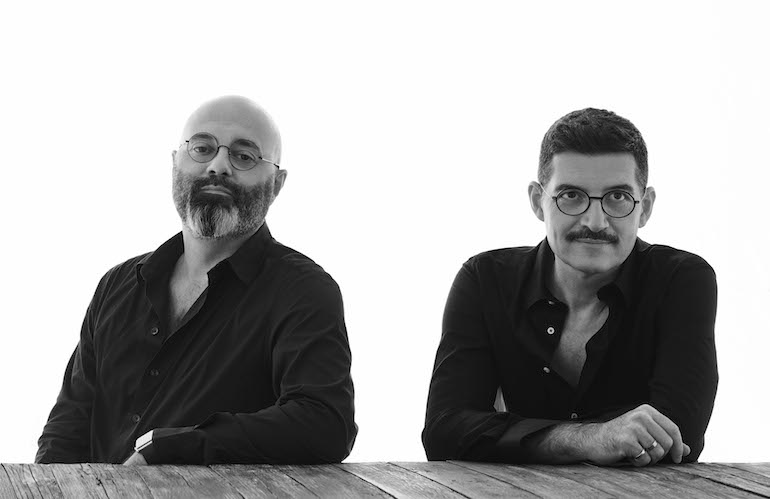 FLOS
Flos has announced the appointment of Milanese architect duo Calvi Brambilla (Fabio Calvi and Paolo Brambilla) as its design curators as part of the company's strategic reorganization and development program. Calvi and Brambilla have a total of 20 years of collaboration with Flos, which has included the design of countless special installations for corporate events and new product launches as well as the planning of highly prestigious stands and display architecture, including Soft Walls.
Ware Malcomb
Ware Malcomb has expanded and relocated to Newark, N.J. in a larger space. The new office will be located in the iconic Ironside Newark building. The firm also maintains offices in the region in Princeton, NJ and New York, NY. Additionally, both the firm's San Diego studios have moved into new larger office space. In the Denver office, Rob Kiester has been promoted to studio manager for architecture. He joined the firm in 2016 as project manager.
Mannington Commercial
Jack Ganley (left) will retire as president of Mannington Commercial, effective December 31, 2019. Tom Pendley, Mannington Commercial's senior vice president of marketing, will be promoted to president at that time. Ganley has been in the role since 2004. Previously, he had been with Lees Carpets, where he began as a Manufacturing Trainee in 1976 after graduating from Villanova University, and rose through the organization to become President of Lees in 1995 and Burlington House in 1998.
HKS
Interior designers Su Doggett and Carl Simmonds have joined the London studio of global architectural practice HKS as principal and director for hospitality interiors and design director for hospitality interiors, respectively. Doggett and Simmonds both have vast experience, having designed and managed hospitality projects across the globe. Over the last 25 years they have delivered an array of luxury projects including both new build and refurbishment schemes in city center locations and deluxe resorts, working for many of the world's leading hotel brands.
Versteel
Commercial furniture manufacturer Versteel has hired industrial designer Jacklyn Ady as director of product design and development. Ady has a variety of experiences in the design research, sports retail, and children's toys industries, among others. Most recently, she was an independent design consultant.
Spacesmith
Spacesmith has announced the addition of accomplished architect Katy Flammia (right) as the firm's new design director for the firm's Hudson, NY office. She has wide-ranging expertise in such areas as biophilic design and energy-efficient Passive House construction, and previously served as a design director at NBBJ after leading her own boutique design firm in Boston, THEREdesign, for 16 years.
Tangram
Tangram has announced the appointment of Angelika Carry as architectural products sales executive in the company's flooring, walls, and construction division. Carry brings a robust interior design background with experience in business development, sales, and marketing for commercial interiors companies Pivot Interiors and Haworth, as well as for providers of architectural products. She also has operated a highly successful private practice in residential interiors consulting and home staging.
Wilson Associates
The Singapore studio of Wilson Associates has added two new design directors. They are Victoria Edwards and Robyn Gan. Edwards' career spans work as owner-operator and designer. In her new role she will oversee the direction and daily activities of the internal team. Gan's new position will be design director, procurement. She comes to Wilson Associates with two decades of hospitality procurement and FF&E design experience. Additionally, in the firm's Dallas studio, Louie Sison has been promoted to design director and Lela Richardson to operations director.
Mats Inc.
Rich Ruhlin has been promoted to chief growth and product officer at commercial flooring company Mats Inc. Ruhlin has more than 25 years of sales, marketing, and account management experience, and has been with Mats Inc since 2000 in various roles. He will report to CEO Barry Hume.
Suomi Design Works
Hospitality design industry veteran Michael Suomi (left) has launched a new hotel design studio, Suomi Design Works, based in Manhattan. Suomi has more than 30 years of architectural and interior design experience, most recently as principal and vice president of Stonehill Taylor for 15 years.
CetraRuddy
CetraRuddy has announced promotions for nine team members, including two elevated to senior-level leadership. Emmanuelle C. Slossberg has been elevated to principal and Erica LiBritz will become associate principal. Lindsey Doren, Patricia Duval, Keith Fuchslocher, and Sohith Perera are new senior associates, and Kana Ahn, Russell Kopp, and Hal Rosner have been named associates.
One Line
Miami-based One Line Design Studio has announced the addition of Jason Valentin as project designer. Prior to joining One Line, he worked with notable firms throughout Florida and had a recurring spot on TLC's show Trading Spaces as an apprentice to Frank Bielec.
Arcsine
Oakland-based Arcsine has brought Elizabeth Dillon on board as director of hospitality. Dillon is the first to fill the recently created role. Previously, Dillon was at ForrestPerkins, which she joined in 2001 and where she helped to grow its west coast presence.
Stantec
Raed Alawadhi (right) has joined the Miami office of Stantec as senior interior designer. He brings more than 19 years of design experience to the firm. Alawadhi previously ran his own commercial and residential design firm, R.A.D., designing projects throughout the United States, Caribbean, South America, Europe, and Middle East.
Workshop/APD
New York City-based Workshop/APD has elevated seven architecture and design leaders to associate. Design director Andrew Kline and managing director Stephan Thimme have been promoted to senior associate, and Michael Ellison, design director, residential interiors; Tyler Marshall, managing director; Brook Quach, design director; Zachary Helmers, senior project manager; and Jason Money, senior project manager, have been promoted to associate.
//3877
The D.C.-based architecture and interior design firm //3877 has welcomed two new team members, Agustina Soler and Christina Rodriguez. Soler has more than eight years in the industry and previously worked at CallisonRTKL, where she focused on exterior building design, sustainability, and resilient design. Rodriguez had a five-year tenure at the firm Arquitectonica, followed by a role as staff architect at SK+I.
Spector Group
Leading global architecture, interiors, and master planning firm Spector Group has announced the hiring of two new design directors, Steven South and Sara Agrest. The two bring a combined 40 years of architectural experience.
HLW
Katerina Anagnostopoulou Politou has joined the London team at HLW as senior workplace strategist. In her new role she will focus on developing impactful, strategic workplace projects, highly considered from the perspective of the end user. Additionally, Alexander Dunham (left) is the new director of workplace in New York. Dunham's portfolio spans 15 years, and includes work in transportation, aviation, healthcare, education, and the arts.
Wilkhahn
German office furniture maker Wilkhahn has announced the hiring of two executive level employees. Michael Lakner has been named president of Wilkhahn USA, and Ted Zakowski has been named vice president of sales for Wilkhahn USA. Lakner has 25 years of experience in the semiconductor, solar, and architectural industries, and Zakowski has more than 30 years of experience in the commercial furniture industry with manufacturers such as Kimball Office, USM, and Vitra, where he spent the previous four years.
MKDA
Interior Design Firm MKDA has established a Washington, D.C. design studio. The office will be headed by Kristín Aldan Guðmundsdóttir, formerly senior project designer at Gensler, where she led design projects ranging from large-scale, high-end law firms to smaller historic projects. Prior to her tenure with Gensler, she owned InnArk, a leading design firm in Iceland.
Dacor
Luxury home appliance brand Dacor has announced the appointment of Scott Davies (right) as head of marketing. Davies brings more than 20 years of extensive leadership experience in the luxury industry and will lead the development, coordination, and implementation of marketing strategies for the brand.
HGA
Courtney McLeod-Golden has joined the Sacramento office of HGA as principal and practice group leader. McLeod-Golden has more than 25 years of experience working with public and educational clients. She was previously managing principal and education practice leader with Dreyfuss + Blackford Architecture in Sacramento.
Gabriella White
Gabriella White LLC, parent company to luxury indoor and outdoor furniture brands, Summer Classics, Gabby, and Wendy Jane, will acquire North Carolina-based furniture and fabric manufacturer, Stanford Furniture. Family-owned since 1992, Stanford Furniture tailors custom upholstery for the interior design trade and fine furniture retailers.
Schmidt Hammer Lassen Architects
One of Scandinavia's most recognized design firms, Schmidt Hammer Lassen Architects, will open a bi-coastal practice in the U.S. in early 2020 in partnership with Perkins and Will. With the addition of the new North American studios, Schmidt Hammer Lassen will be represented in Copenhagen, Shanghai, New York, and San Francisco. The firm will work out of Perkins and Will offices in those two U.S. cities.
Nemo Tile and Stone
Stacey Marino Puopolo (left) has joined the Boston-based team at Nemo Tile and Stone. With nearly 10 years of experience in the design world, she has built strong relationships and sales knowledge in the tile business.
Contour Interior Design
Warren Knight has been named global brand director at Contour Interior Design. He will work out of the firm's Houston headquarters. Knight has extensive experience in product design, luxury residential projects, and commercial interiors.
Focal Point
The leading architectural lighting and acoustic solutions manufacturer Focal Point has expanded its product management team with the hiring of Ali Qureshi as senior product manager–downlights and cylinders and Shavonna Warren as associate product manager. Qureshi comes to the company with over a decade of experience in product management, primarily in the lighting industry. Warren accepted the position of associate product manager with a focus on supporting Focal Point's growing linear luminaires' portfolio.
elements
Denver-based elements has joined forces with branding and experiential graphic design firm 3DIdentity. With the addition of 3DID, elements now offers comprehensive services through eight fully integrated studios, including furniture, manufactured construction, flooring, technology integration, and artwork and environmental graphics.