Ones to Watch: Darragh Casey
Designer and artist

Darragh Casey

left his native Ireland in 2010 to earn an MA in Design from Central Saint Martins. Upon graduating in 2012, he received a "Future Makers" grant from the

Craft Council of Ireland

and was short listed for a Nova Award for his graduate work.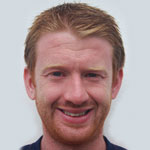 Interior Design: When did you first become interested in furniture and design?

DC: I used to make and sell bird houses as a teenager, and even made a "bird hotel" to go with the collection-for some reason the birds didn't take to it!

ID: Did your family build things?


DC: As kids, we used to joke that my father made a shelf if he was ever bored-though he never seemed bored and was always involved in numerous projects, whether restoring an old farm tractor or building a cabinet. This joke about the shelf led to my fascination with objects whose role is to serve other objects, and the sense of hierarchy this creates. In a similar way, during my undergraduate studies at the National College of Art and Design in Dublin, I designed and made ceramic cups that sat on a specific shelf configuration. The shelves sloped together, so the cups were made to be wedged together on this shelf.

ID: What was your Central Saint Martins experience?

LC: I am not a naturally confident person, and I can be quite self-deprecating at times. So I initially spent a lot of time searching for the model designer I felt I had to become, but my course director Simon Fraser encouraged (and pleaded!) with me to trust my intuition and become comfortable "not fitting in" to others' design shoes.

ID: How have you found life in the furniture marketplace?


LC: Although my work often responds to commercial design in an ironic way, it is not intended to belittle it. I work with a furniture designer maker in East London, "Unto the Last," and it keeps me grounded with a design context that contracts my own approach.

ID: What's on the horizon for you?


LC: Since graduating I have been developing the next series of Shelf Portraits with a family based in London. I've been working on a design consultancy project with the Innovation Centre in CSM. And I'm also seeking and funding and preparing ideas for the Milan Furniture Fair next year. I want to be involved in every aspect of design, from product development to consultancy to exhibition, and continue to add to my design education so it will never stop!