Ones to Watch: Egg Collective
In 2002, they met as freshmen in architecture school at

Washington University in St. Louis

and realized early on that, by collaborating, they could create something not only beautiful, but different. Crystal Ellis, Stephanie Beamer and Hillary Petrie started

Egg Collective

years ago – not as a business, but simply as a collaboration between people who like to create.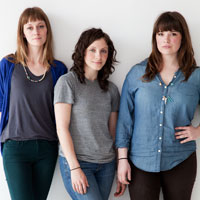 "After we graduated in 2006 we scattered all over the country but continued to design with each other by meeting over the phone once a week," says Ellis. "We talked about furniture with the hope that it would we come back together. But initially it was just dream," she continues.
Then six years passed, fate intervened, and the designers found themselves moving to New York together in October 2011. That's when their "virtual" studio became a reality. "We've known each other for a decade. I couldn't ask for better business partners," says Ellis. "When we formed a company each of our strong points came out in a really good way."

Their pieces, which are entirely handcrafted, are designed as an alternative to the mass-produced sameness that they believe dominates the furniture market. According to Ellis, the designers hope that, "The people who invest in our furniture will pass it on to their children with stories of lives lived around it."
They spent six months prototyping and launched their first collection at New York's

International Contemporary Furniture Fair

in 2012 where it merited the Editors Award for New Designer. This year was also the year that, for the first time in its history, the

New York City Ballet

chose three local designers to feature on their promenade, and approached Egg Collective about the seating area.
"Our initial business plan was to design collections of furniture and gage response before deciding on the next move," says Ellis. With such a successful showing right out of the gate, it seems no discussion is necessary. The designers are already prototyping three new pieces that will debut in 2013 and working on a new collection to roll out in 2014.

Ones to Watch: Apparatus Studio


Ones to Watch: Solomonoff Architecture Studio