Ones to Watch: Leigh Cameron



Leigh Cameron's concrete and sequoia Weight of Space focuses on the proportions and ratios between positive and negative space.





Leigh Cameron

is a gem of a furniture maker. Halfway through the two year furniture program at Central Saint Martins, he won a Palladium Alliance jewelry design competition judged by

Hannah Martin

and

Giles Deacon

, then worked on two window displays for

Bulgari

sponsored by

British Vogue

. His stark, architectural designs are elegant and balanced whether manifested as rings, benches, or tables-all of which are currently available.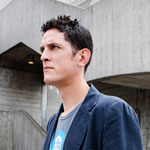 Interior Design: How did you first encounter design?


LC: From a young age I was quite obsessed by how things were made and what made them work. When I was about ten, I spent an entire weekend taking my bicycle apart and putting it back together again. But Gerrit Rietveld's work was the first thing I really remember being bowled over by. It was the first time I understood you could construct things in an alternative way. It was suddenly clear to me: the special awareness, the proportions, the structure. It spoke directly to me and made me think I might have something to say as well.

ID: How was your time at Central Saint Martins?


LC: I worked as a cabinet maker for 15 years before I did the course-it took me two years to pluck up the courage to even apply! Once I got there, I was really pushed out of my comfort zone, which was hard, but it helped me acknowledge that I was a designer and not just a maker.

ID: What did winning the jewelry award mean for you?

LC: First, it gave me a huge confidence boost; and second, getting to the final show and thinking-yes, I did it! I am proud of what I have achieved and people even want to buy my designs!

Skeleton of Trees in concrete and sequoia.


ID: What's your take on the current furniture and design marketplace?


LC: It is a hugely competitive market, and understanding what makes you different from everyone else is crucial. I particularly admire John Pawson for his clarity and simplicity, and the way he combines proportion, light, and space. I am also interested in the move toward more crafted pieces, for example, G&T by Bethan Gray and Heavy Light by Benjamin Hubert, which challenge perceptions of materials.

ID: What's next?


LC: Since graduating, I have worked on a project with Vivienne Westwood and have co-created The Concrete Foundation, to work on some large-scale public arts pieces. It is hard to keep focused, but I am trying to keep my launch at the 2013 Milan Furniture Fair as the goal post.

<<



Ones to Watch: Darragh Casey



Ones to Watch: Jane Harper



<