Ones to Watch: Mae Engelgeer

Mae Engelgeer

is a young Dutch textile designer who believes in following her instincts. "I do everything based on feeling," she says. "I just go with the flow." So far, it's a method that seems to be working well for her. Since setting up her studio in 2008, her distinctive blanket, cushion, shawl and tea towel designs, characterized by hypnotizing geometric patterns and expertly put together color combinations, are now sold through over 50 select retailers worldwide.

Engelgeer's introduction to textiles took place over ten years ago when she began studying textiles and styling at the

Amsterdam Fashion Institute

. After graduating in 2004, she worked in the fashion industry for two years where she learned a great deal about the production process through visiting textile factories in Istanbul and India. However, it wasn't long before she realized that she wanted to create her own projects but was unsure about what exactly she wanted to make.

She embarked upon an MA in Applied Arts at the

Sandberg Institute

, where she got to experiment across a range of different media. "It was at Sandberg that I realized that textiles could be more autonomous but I also realized that I didn't like the gallery world," she recalls. By creating textiles for the interior, she struck upon the perfect balance between art and commerce. "In the work I do now, the textiles are still the focus of the design but it's also a product that I can sell."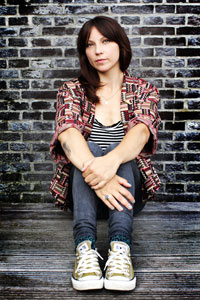 After graduating in 2008 she set up her own studio in Amsterdam but continued to work as a stylist and a freelance designer: "I think it's only in the past year and a half that I've been full time", she reflects. "I think if I'd come from a different background, from a design academy or something like that, where they prepare and teach you about the industry, it would have been easier. I had to find my own way."

While Engelgeer dreams up her designs in her canal-side studio space in Amsterdam, production takes place over an hour's drive south of the city at a factory in Tilburg called the

TextielLab

. "I call it the candy store because you can go crazy there," she laughs. "You have to be focused on your idea or else you end up with nothing." The TextileLab helps designers bring their creations to life by offering expert advice, high quality yarns and top-of-the-range machinery. Uniquely, the building also houses a textile museum (TextielMuseum), which holds exhibitions focusing on textile science, design, industrial culture and the arts. "As a young designer, there's no other other place that you can do something like this in the Netherlands, or perhaps even in Europe," Engelgeer says.

Most recently, Engelgeer launched 'ISH.,' a line of mohair, merino wool and cotton blankets and cotton and linen tea towels featuring a zigzagging, folk-inspired pattern that combines graduated pastel hues with copper and neon accents. Cleverly, the name 'ISH.'comes from the suffix 'ish' which Engelgeer uses to describe the designs: 'mintish, pinkish, yellowish…folkish," and so on.

With production underway on a new line of colorful boucherouite-style carpets, wall hangings, knitted textiles, a set of placemats and even a candle design, we can be certain of the fact that Mae Engelgeer is only just getting started.