Ones to Watch: Mobikey


Mobikey

, a new French manufacturer, was the brainchild of CEO and designer Stéphane Eynard, a former advertising executive who had nurtured for several years an idea for easy-to-assemble, modular storage units that could be personalized. Last year he plunged, left his advertising job and, working with new Mobikey business partner Nicolas Roussel and an artisan carpenter, developed the prototype for the initial product line: eGalHub is now available in an assortment of sizes, shapes and colors. (The name combines

egal

, French for equal, and hub as in wheel or airport.) The enthusiastic Eynard calls it "a reinvention of the drawer."

Each customer can choose the number and various sizes of drawers, which can be combined to create a chest, cabinet, TV stand, desk or shelves. Made of MDF, the modular elements snap into place, secured by aluminum or Delrin "keys", short rods with cylindrical or flat heads. The lacquer finish comes in matte or glossy, and the drawers, which ride on Teflon strips, are lacquered inside and out. The basic eGalHub model is white, the Delicious line is black, and the MultiKolor offers black, white, red, navy, sky blue, green, yellow and pink.

Decorative elements are also secured with keys, including knotted leather drawer handles and whimsical panels with comic drawings, vintage record labels or computer-keyboard letters for a façade with a personal message.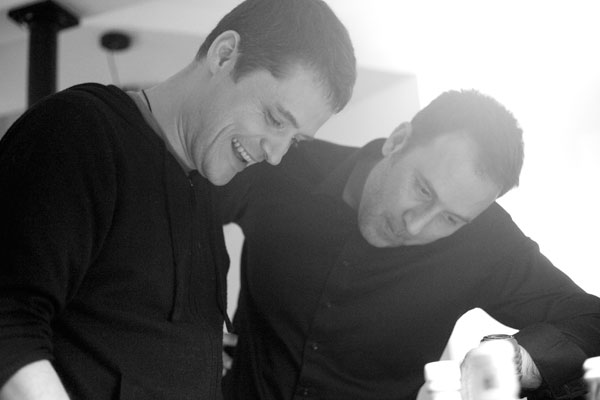 Stéphane Eynard and Mobikey's co-founder Nicolas Roussel. Photo courtesy of Mobikey.