Ones to Watch: Omri Revesz

Omri Revesz

grew up in the studios of his grandfather, a sculptor, and his father, an architect. This upbringing and the city around him made him think about design at a young age. "It made me see and appreciate the potential adventures in the urban public space," says Revesz, born in Tel Aviv, Israel, in 1980. Revesz moved to Italy to study architecture at

Università IUAV di Venezia

at the age of 25.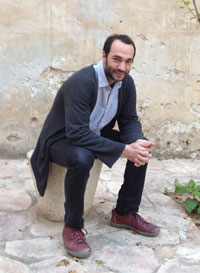 His 2009 thesis project was a tipping point in his interest in urban design. To experiment with the idea of chairs that moved around a public space, he placed 40 chairs in a Venicetian squares and saw that passersby, without instruction, pulled chairs into groups or configurations depending on the time of day.
"It was a real urban celebration," he says. "The moment you see that your idea is mentally accepted by its users and is becoming a part of their daily life, is for sure a moment of great satisfaction." From this experience he created Nomad, a system of mobile, shared outdoor seating. The design was later purchased by Italian outdoor seating manufacturer

URBO

, and presented at Milan Design Week 2012. The line is currently in development.
Around the time of his graduation, Revesz and colleagues Alessandro Grande and Elena Soloni entered a competition sponsored by Italian sustainable furniture manufacturer

Riva 1920

to reuse Venice's Briccole, the oak mooring posts that rise out of the city's lagoon. The team's design for an outdoor seat, Bitta (seen above), won first place and recently became available as part of Riva's Briccole collection.
Currently, Revesz is designing a boutique hotel in Tel Aviv with his father, Dani Revesz. Located in a historic building in Jaffa, an eclectic neighborhood in the southern part of the city, the design concept centers on the story of Jaffa's century-old orchards. "A magical backyard will become a vivd orchard and restaurant, and we are now working on bringing that nature indoors by using the same design principals in terms of materials, colors, and sensations," he says.
Revesz continues to develop furniture concepts alongside his architecture, seeing them as a unified pursuit. He is working on a series of outdoor furniture made of wood powder and bioplastic composite that is similar to real wood in appearance in touch while maintaining plastic's versatility in outdoor applications. In April, a metal side table he designed for new Italian company Mingardo will be presented at Salone Internazionale del Mobile in Milan.
Like others of his generation, Revesz sees the correlation between his expanding body of work and the Internet age, comparing his design approach to the user-generated content on Wikipedia or Facebook. "I will always prefer to create a platform for various activities, rather than suggesting a pre-defined experience," he says. "I believe that each project should engage its user in an adventure."

<< Back to main article



Ones to Watch: Gaurav Nanda



Ones to Watch: Situ