Ones to Watch: Peter Buley
Lots of designers turn backwards to see ahead, but rarely do the past and future meld as successfully as in the work of 34-year-old Peter Buley. His Brooklyn-based studio Analog Modern produces furniture with an Arts and Crafts simplicity and an innovative sense of purpose.
After receiving a bachelor's degree in Environmental Design from the University of Colorado Boulder and master's in Sustainable Development from the School for International Training in Vermont, Buley did an intense woodworking assistantship at the Center for Furniture Craftsmanship in Rockport, Maine, which he says was "foundational in my getting started in the furniture world."
Analog Modern began with a bench. "The Dovetail Bench," he says, "was my clean take on the overtly rough-and -tumble reclaimed Brooklyn world." The bench's powdercoated cold-rolled steel legs support a beam of reclaimed pine. "It's simple enough to be mass produced," he says-and elegant enough to deserve a wide audience.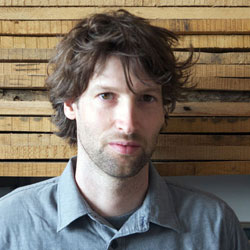 His training in matters environmental and international is evident in projects like his Morris Arboretum Treehouse for the University of Pennsylvania. Created in collaboration with Metcalf Architecture & Design and Forever Young Treehouses , Buley wove two linear miles of cedar boughs into a wheelchair-accessible and ADA-compliant bird's nest of a building. Meanwhile, his white oak Nesting Tea and Dining Tables update the traditional Korean necessities with hand-cut dovetail and stub tenon joinery, mother of pearl inlay, and proud hand-chamfered edges-all compact enough for the smallest apartment anywhere in the world.
Perhaps most impressive are Buley's prototypes for a Hydroponic Kitchen Island, which somehow manage to combine a walnut-and-stainless-steel prep table, dining table, and kitchen garden, complete with t5 or LED grow lights embedded under its top. Another prototype encloses the garden with the cleanest-lined white box imaginable, and pulls only 90 watts with LED lights (even with a cooling fan) that encourages dozens of plants to bloom.
Analog Modern is blooming, too: "We're moving into a much bigger space and exploring a collective model to bring some other designers/makers under our roof," Buley says. Other plans include lighting, beds, and wall pieces, a gallery in which to show them, and perhaps "a creative space in East Asia." Not content to rest on past successes, the future of Analog Modern looks bright.