Ones to Watch: Proximity Kitchensystem
Pete Walker, founder of

Proximity Kitchensystem

, found himself in the trade-show equivalent of the eye of the storm during ICFF. It was a paradoxical situation: he was demonstrating his order-inducing invention in the midst of an exhibit booth that bustled with an inquisitive crowd. The object of its collective curiosity was an elongated sink, topped with layers of cutting boards and trays that Walker slid back and forth with the deftness and assurance of a Vegas blackjack dealer.
Walker started Proximity Kitchensystem after a long career as a kitchen designer. "Thirty years of working with clients was my R&D period," he says. "Increasingly, I was being asked to do custom sinks. Eventually, I realized that there was a market for this product, and I took it into production."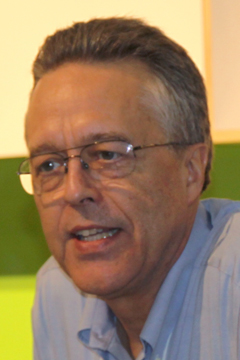 The sink unit is the lynchpin of a kitchen-design system devised by Walker that emphasizes seamless, logical workflow as created by a well-structured floorplan. It is available in three materials: Corian, stainless steel, and teak, and in 36-, 42-, and 48-inch standard lengths. The basin is not stamped, but bent and welded by hand; 16-gauge steel is used for the bowl, with 12-gauge for the rim and surface areas. A series of interchangeable accessories, including cutting boards, prep trays, colanders and strainers, slide along the top edge of the sink and allow the chef to clean and chop food in an intuitive, point-of-usage manner.
Walker cites a business-advice book,


Blue Ocean Strategy


, as being instrumental in shaping his approach to launching Proximity Kitchensystem. In particular, the principle of value innovation—which the designer sums up as "If it doesn't make sense, don't do it"—proved a guiding force during the search for a qualified metal fabricator. He submitted proposals to 40 steel vendors before finding one he felt fit the profile of the optimal partner: "A combination of technical genius, secure financials, and most important, the will to follow through on the project."

<



Ones to Watch: Semihandmade



Ones to Watch: Brendan Ravenhill Studio