Ones to Watch: Semihandmade
The assembly process for IKEA kitchen cabinets may be appealingly simple, but the same can't be said about their appearance; their style—or lack thereof—could charitably be described as generic. John McDonald, founder of

Semihandmade

, saw an opportunity to improve on the aesthetics of the product that would cater to the store's design-conscious clientele. It's an idea that garnered the Duarte, California-based firm the Editors' Award for best kitchen/bath product at this year's ICFF.
Providing custom doors, drawer fronts, and side panels that are pre-drilled for use on the mass-produced cabinet carcasses has proved a hit, with the business going nationwide in three years. Priced about 30 percent higher than IKEA's standard doors and significantly less expensive than a true custom-kitchen installation, Semihandmade offers value as well as visual distinction.
The story of Semihandmade is a lesson in persistence. After 14 years in the mercurial world of Hollywood screenwriting, McDonald was ready for a change, and started picking up antiques at Los Angles-area swap meets. He'd refinish the pieces, then sell them at flea markets. When fumes from the chemical strippers eventually gave him a sinus infection, he shifted focus and began to design and build furniture. A mishap with a bandsaw that cost him a finger, coupled with the onset of the recession, were the circumstances that led to the start of Semihandmade. "My motivation was desperation," McDonald says. "It's like being a poet—do you want to make money or not?"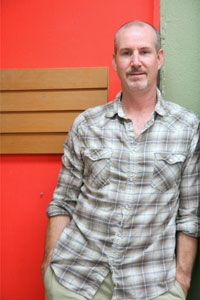 Semihandmade's material selection spans the ordinary and exotic wood species, with the roster including Doug fir, zebrawood, walnut, teak, bamboo, wenge, and oak veneers, along with laminate facing. As well, McDonald sources a variety of reclaimed lumber like basketball court planks and redwood wine-barrel staves for one-of-a-kind jobs.
A new collection, called Batch, is an eco- and economic-friendly alternative to conventional sequence-matched doors. Instead of an uninterrupted flow of horizontal grain—a look that generates a lot of off-cut waste—Batch uses vertical grain veneers applied in a random pattern on cabinet fronts. The result is an edgy interpretation of a classic design.
Redo, a sideline of the company, applies the same principle to create one-off furniture pieces. Again using kitchen-cabinet boxes as a starting point, with the addition of would-be waste material repurposed as door fronts, unique bookcases, media units, hanging cabinets, and credenzas can be created.


<



Ones to Watch: Brendan Ravenhill Studio



Ones to Watch: Proximity Kitchensystem