Ones to Watch: Situ
Perhaps more than new designs, material innovations are the driving force in today's outdoor furnishings. Pittsburgh-based company TAKTL was on the forefront of this trend when it launched sister company Situ in 2011. But the story of the outdoor furnishings line goes back much further, to a research and development project started at architectural product manufacturer Forms+Surfaces .
By 2006, TAKTL had become interested in ultra-high performance concrete (UHPC), a fiber-reinforced cement composite that has high strength even when used in very thin forms. The material was becoming increasingly popular in architectural applications, like facades, in Europe. (Formerly, UHPC had only been common in industrial projects like bridges and marine anchors.)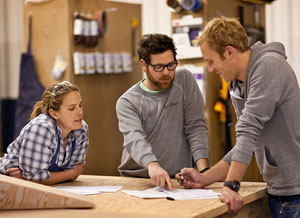 In researching the material, "We discovered that the expertise and technology to manufacture repeatable, affordable products did not yet exist; therefore, to continue down this path we would need to design the process," explain Lauren and Roger Flannery, founders of TAKTL and principals of Forms+Surfaces. The team began collaborating with a UHPC research facility in Germany, where they engineered techniques to use their proprietary concrete mix in a variety of applications.
In 2010, the Flannerys launched TAKTL, splitting the company's portfolio into exterior facades, interior wall panels, and outdoor furniture. Situ Urban Elements encompasses the latter category, with a range that shows off UHPC's versatility in exterior applications. Seating, light bollards, planters, and waste receptacles are customizable, and in many cases are more durable than traditional public-space elements made of steel or concrete. The same material qualities that give the furniture its slim profiles and slender reveals have caught the attention of architects across the world; TAKTL's VECTR and TESLA8 facade and wall panel divisions are growing with unforeseen speed.
Led by head of design Jason Flannery, the company is drawing on the East Coast's large pool of talented architects and designers and has expanded from eight to nearly 60 employees in its three-year history. As it prepares to open a new modular manufacturing facility in Pennsylvania this spring, TAKTL's trajectory is a reminder that today's urban designers are taking a more holistic approach in their work—searching for materials that are not only innovative in appearance, but also in their performance.
<< Back to main article
Ones to Watch: Gaurav Nanda
Ones to Watch: Omri Revesz