Paddle8 Curates Sale of Judith Hoffman Collection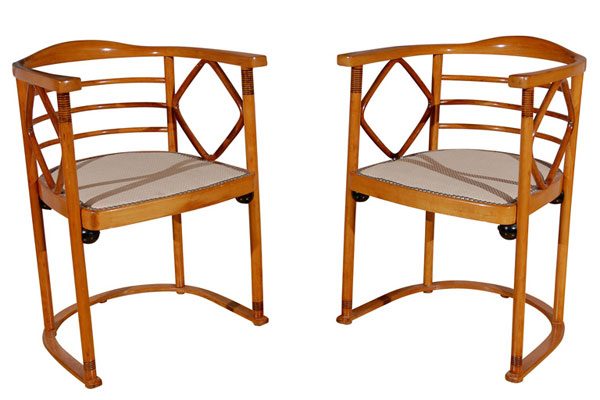 Josef Hoffmann, pair of Fledermaus armchairs, c. 1904. Bentwood, 22 x 20 x 29 in. Estimate: $2,500 – $3,500




This week's "Café Modernism: Austro-Hungarian Design

,

1900-1935″ sale by online auction house

Paddle8

features works from interior designer and noted collector Judith Hoffman. Bids open Wednesday, January 15 at 10AM EST and close Thursday, January 23 at 6PM EST.

A Los Angeles resident since 1956 after fleeing her native Hungary, Hoffman scoured Central European antique markets to amass a collection of museum-quality furniture, design objects, and textiles. Her store in Los Angeles, Szalon, became a treasure trove of outstanding pieces by the likes of Lajos Kozma, Josef Hoffmann, Dagabert Peche and Otto Wagner. Often credited with furthering an appreciation for designers from the Secession to the Bauhaus era, Hoffman's philosophy is "to introduce both the layman and professional to various design possibilities inherent in mixing Modernism's clean lines and beautiful craftsmanship with today's contemporary interiors."

Highlights of the 24-lot sale include several important works by Lajos Kozma, the preeminent designer of 20th-century Hungarian Modernism, including a stunning parquet-inlaid secretary from the early 1930s. Other notables: a pair of Josef Hoffmann bentwood armchairs that were in the Cafe Fledermaus in Vienna and a hammered brass light fixture by Dagobert Peche.

Paddle8's non-traditional online approach focuses on curated art and design sales and benefit auctions in collaboration with non-profits. Established in 2011, Paddle8's current expansion into design "reflects the tastes of today's savvy collectors seeking extraordinary works across the collecting categories where they will also bid on a chair to go with the newly acquired painting," remarks co-founder Alexander Gilkes.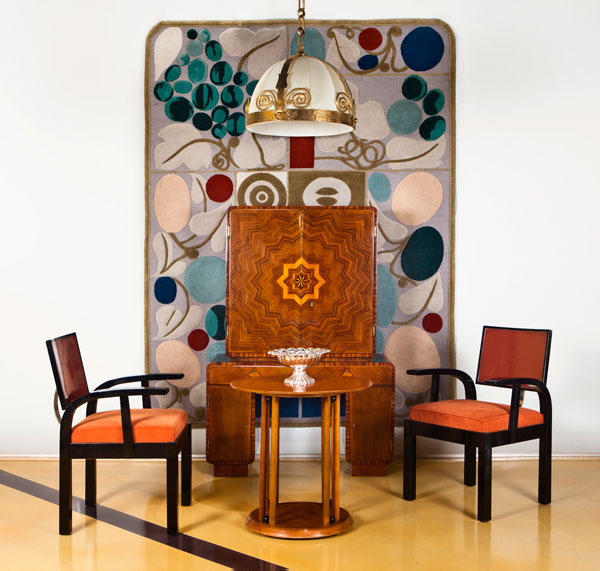 Shown: Lajos Kozma, Secretary, Estimate: $5,000 – $7,000. Lajos Kozma, Pair of armchairs, Estimate: $8,000 – $12,000. Josef Hoffmann, Fledermaus side table, Estimate: $1,500 – $2,500. Dagobert Peche (attributed to), Light fixture, Estimate $8,000 – $12,000. Hungarian, Scalloped centerpiece bowl, Estimate: $1,400 – $1,800. Judith Hoffman and Barbara Barran, 'Jewel Box' rug, Estimate: $3,000 – $5,000.